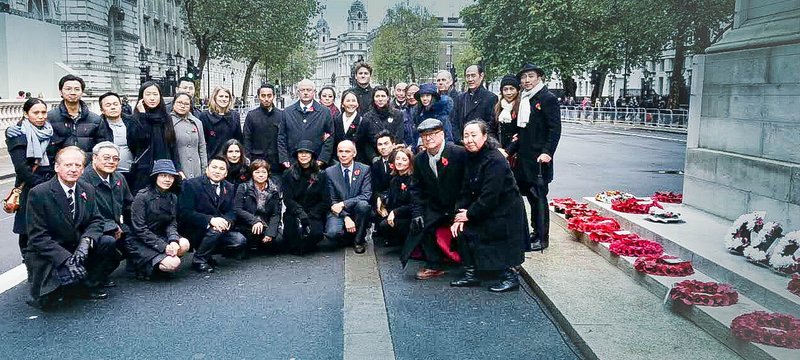 Chinese Labour Corps contingent next to the Cenotaph with the Western Front Association Chairman Colin Wagstaff and Malcolm Doolin
The image of the Cenotaph graced with wreaths of red poppies is one that never ceases to touch me. Although my family was in no way connected to the two world wars, the thought of all those who gave themselves to defending peace during those turbulent years and in the harshest of conditions to build order and stability throughout the world is truly soul-stirring. This was even more the case this year, for I, along with friends, colleagues and associates, was able to pay tribute to a body of men with whom we had a common heritage.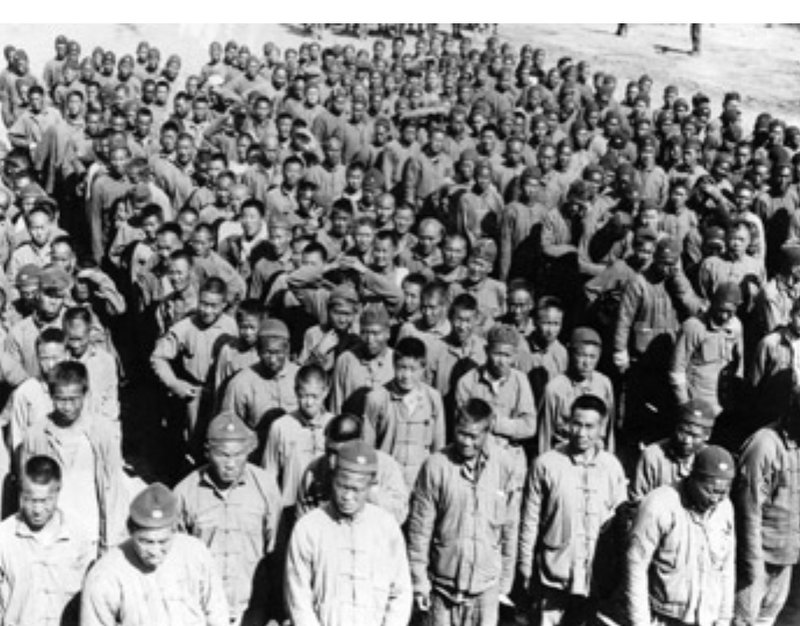 Arrival at Boulogne
This was the Chinese Labour Corps (CLC), some 95,000 men recruited by the British army to provide essential logistical work at the Front during the Great War. Together with a further 40,000 employed by the French, the Chinese would form the largest international labour corps to help the Allied effort.
Tasks performed by the labourers included building railroads, digging trenches, unloading guns at the docks, and the more skilled would work in munitions factories or repair tanks. At the end of the war, when the troops set off for home, the Chinese stayed on to clear the land of ordnance, dig up and bury the dead and restore the battle-scarred fields to agricultural use.
At least two thousand who worked for the British died from shellfire or disease, probably many more. A Chinese cemetery was built in their memory in Noyelles-sur-Mer at the mouth of the Somme in northwest France. A monument was recently erected on a CLC campsite in Busseboom in Flanders to commemorate thirteen labourers who died in an explosion. Here in Britain, there is nothing – no mention of the Chinese Labour Corps, no recognition of the part they played in the Great War, no memorial to those who gave their lives to a cause about which they knew little.

It was therefore with the greatest gratitude and enthusiasm that we accepted the Western Front Association's kind offer to let us take part in their commemoration ceremony on Armistice Day this year, so that we might pay tribute to the CLC. What was particularly surprising was that Chairman Colin Wagstaff had invited us to participate in the WFA parade within days of making contact with me. This was such a welcome contrast to the prolonged email correspondence and endless phone calls that I have been swamped in over the past two years just to get our project on the Chinese Labour Corps underway.
Apart from The Meridian Society, there are a number of groups and organisations currently involved in CLC projects of one kind or another with the aim of raising awareness of the CLC story amongst the general public. Here at last was the perfect opportunity for us to band together and make a major impact. When I approached the others, they all came on board swiftly and eagerly and we soon formed a sizeable "CLC contingent", comprising artistes from Moongate Productions, Chinese Arts Space and others working on a variety of stage performances of the CLC story, the Ensuring We Remember Campaign who are raising funds to erect a permanent memorial to the CLC in London, the British-Armed Forces Project team from Ming'Ai Association and Regent's University, China Exchange who recently unveiled a plaque to the CLC on their premises, Chinese members of the Conservative, Labour and Lib-Dem parties, various individuals and ourselves, The Meridian Society, who are currently conducting a two-year heritage project on the CLC with a grant from the Heritage Lottery Fund.

From the original four wreaths and twenty spaces earmarked for us, after a stream of pleading emails to parade marshal John Chester, our allocation grew to 31-strong with seven wreaths. Then followed a detailed powerpoint presentation and copious attachments of diagrams and instructions about the parade itself, down to the last detail. The military precision was impressive; I later discovered that John was ex-RAF, so no real surprise there!
Next was media coverage. Did we want photographers and camera crews? How many? Did they require interviews with the WFA? As a result of Johnny Coburn and Tom Thorpe coordinating arrangements with fantastic efficiency, correspondents from China Central Television, Xinhua News Agency, European Chinese Times and UK Chinese Journal joined us on the day. (For links to their reports, please see below.)
November 11th and the day of reckoning had finally come. Members of our contingent arrived, some bright, others blurry-eyed – it was Saturday morning, after all! - and gathered in King Charles Street along with other participants. As we lined up behind the pipers and regimental band with the Khaki Chums taking up the rear, the realisation suddenly dawned that here we were, taking part in a grand ceremony of some significance at a national memorial in the middle of Whitehall, with the corridors of power looming above us. It was quite awe-inspiring and, had it not been for our unflappable steward, Malcolm Doolin, guiding us through the ceremony, I do believe some of us might have succumbed to stage fright. As we marched into position, watched by hordes of spectators, the excitement was palpable and quite unlike anything I had ever taken part in.
The ceremony was so well organized, grand yet meaningful. Being piped out to Whitehall and to the Cenotaph is something I shall never forget. I was proud to represent my fellow countrymen, who also sacrificed a lot, so that we could have and enjoy today. I have walked passed the Cenotaph many times before, but from today, CLC will always come to mind.
- Mark Cheang, former Meridian Society Director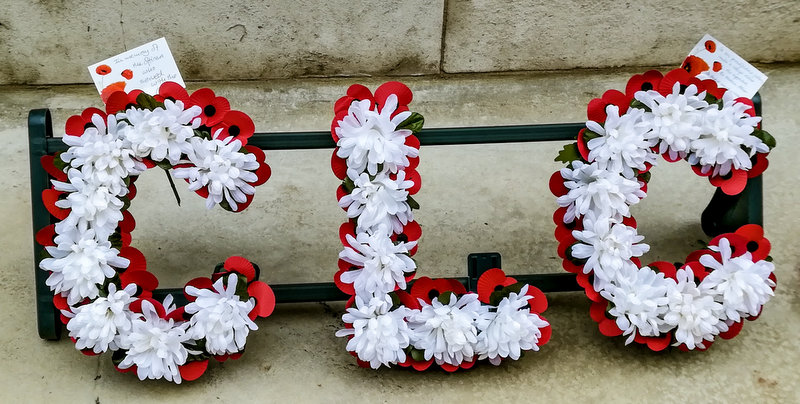 The 'CLC' wreath
Each group took it in turn to lay their wreaths; then came our moment of glory. Amongst ours were two communal wreaths created with the help of a grant from the Big Ideas Company who have been funded by the Department of Communities & Local Government to work with groups and communities in commemorating "the Unremembered". We had bought two plastic frames for the occasion, one spelling the letters "CLC" and the other a simple roundel. At a screening of our oral history film on the CLC at the House of Commons the Tuesday before, we had provided baskets of red poppies and white chrysanthemums and asked attendees to pick a flower and place it in one of the frames in memory of the Chinese labourers. Red poppies being the symbol of remembrance in Europe, it was important to respect this custom. For the Chinese, though, white is the traditional colour of mourning, while the chrysanthemum is one of the four seasonal flowers representing autumn. We felt it would be apt to use a mixture of the two in our wreaths and for the two CLC descendants amongst us - Karen Soo, the granddaughter of a French labour recruit, and Tom Baker, the grandson of a Canadian CLC officer - to lay the wreath bearing the three letters by which their ancestors are known. For them, it was a chance to "make history":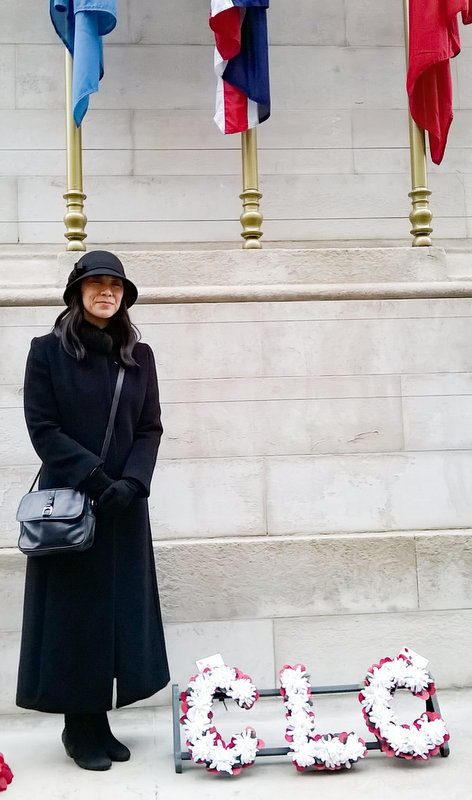 Karen Soo at the Cenotaph, Whitehall, London
Laying a wreath at the Cenotaph on behalf of the CLC on Armistice Day is not something I had ever imagined doing, I am sure my grandfather and all 140,000 men of the Chinese Labour Corps are very pleased as well as all their officers! I feel very privileged to have been part of it. 
- Karen Soo, granddaughter of Chinese labourer Soo Yuen Yi
Like Karen, I found the experience of laying the CLC wreath on the Cenotaph with her – with our two handwritten cards commemorating the Chinese Labourers & the Officers – a deeply moving experience. I felt humbled, honoured, and thankful for so many things. Together we can all build a more respectful, inclusive, and safer world. The Armistice Day ceremony with the media coverage are a great step forward. Ever onwards!
- Tom Baker, grandson of Capt Homer Brown
The second communal wreath was laid in the name of all those organisations that have been, are currently or will soon be collaborating with The Meridian Society to deliver our heritage project. These include the School of Oriental & African Studies of London University, BFI Southbank, Folkestone Museum, Plymouth Museums & Galleries, the Oriental Museum of Durham University and many others and we wish to express our thanks to them for their gesture of support.
Then came the two-minute silence: a moment of reflection on the grimness of war and the unnecessary trauma and bloodshed caused by human folly and ambition. A moment, too, for us to ponder what we can learn from history, how to avoid past mistakes and what each and every one of us can do towards building a common and harmonious future through constant dialogue and collective endeavour. On this day, as our contingent stood shoulder to shoulder with representatives of the Caribbean Labour Corps, it was also a moment of recognition that diverse peoples from all four corners of the world had been drawn into this global conflict and had also made an invaluable contribution alongside the Allied troops.
The ceremony and the two minute silence allowed me to reflect on the universal stories of courage and wanting better for both oneself and for future generations that is so alive in the stories of the CLC, bringing a sense of togetherness between past and those present, all of which I found very deeply moving and inspiring. It was a moment of deep civic and personal pride to be both British and Chinese.
- Jonathan Man, Chinese Arts Space  
It was heartening to see different generations & ethnicities attend, recognising the diverse collective effort to protect us from aggressive forces, and the value of passing on more historically accurate information to younger generations, to prevent future misunderstandings and war. I overheard someone who whispered, "Oh look, the Chinese are here!" before their friend offered the CLC explanation. Let's hope the Western Front Association continues annually to include the British Chinese community and supporters to commemorate the CLC's vital contribution towards peace in Europe.
- David Ka-Shing Tse, actor and director
It's deeply moving as a British Chinese to have the contributions made by the CLC acknowledged and remembered, heightening the visibility of the Chinese community as part of the fabric of British society.
- Jennifer Lim, Moongate Productions
Our impact was undoubtedly the greater because of our strength in numbers. Indeed, forming a contingent such as ours was in itself a momentous occasion. The Chinese are not normally known for displays of unity, nor for being particularly vocal, but tend rather to work quietly and stubbornly on our own. On this day, we had achieved something quite special.
I was particularly moved with knowing that we have come together for a common cause and to re-write history… [to tell] a story of how significant contributions have been made during WW1.
- Prof Jonathan Liu, British-Chinese Armed Forces Project
[This was] a historic moment of recognition for the Chinese Labour Corps [and] an incredible show of unity and solidarity from the Chinese community and friends.
- Steve Lau, Ensuring We Remember Campaign
The driving force that had brought us together in this act of remembrance was a deep sense of duty to right a wrong. The Chinese Labour Corps have been forgotten for too long – perhaps because they were not of the right appearance, or because they did not cut the conventional heroic figure. To pay tribute to them in such a public manner, in a prominent place and on the centenary of the arrival of the first British recruits on European soil, therefore, was particularly meaningful.
Both sides of my adoptive family had members who fought and died in both world wars. So I know firsthand the importance and power of official remembrance. To be forgotten and left out from such acts of remembrance is worse than being declared "missing in action". It was […] a moment of intense pride, to finally stand visible, to represent and remind people of the sacrifice and commitment that my fellow countrymen made during The Great War.
- Lucy Sheen, actor
I now realise how important the Chinese contribution was to WWI, without which the British and French Allies were failing.  More than this, I have learnt that we do not dismiss anyone as mere simpletons or children because we do not understand their culture, their language or humanity.  They should have been treated on a par with the soldiers whom they were helping to keep alive. From this, we should learn humility, gratitude and dignity among equals.
Marguerita Moreton, Chinese Lib-Dems
Importantly, the Chinese labourers – poor, illiterate peasant farmers for the most part - were at last being remembered as equals, alongside others, regardless of race, creed, colour or rank. Each person involved in the war made a sacrifice, irrespective of the nature of their involvement and whether they died or survived, and it is for this that we must all give thanks and that the observance of Armistice Day must continue throughout future generations.
Everyone in our group, without exception, asked me to relay their gratitude to the Western Front Association for giving us such a wonderful opportunity to bring the CLC story to the fore and for welcoming us with such warmth as part of the family. For all of us in the CLC contingent, the experience was immensely moving, deeply meaningful and truly memorable. So, a huge and heartfelt "thank you" to the WFA - we look forward to working with you again!
Wenlan Peng
The Meridian Society is a London-based charitable organisation committed to the promotion of Chinese culture. Wenlan Peng is director of the society's heritage project on the Chinese Labour Corps. The project team is currently screening their oral history film at venues nationwide, holding workshops for young people at schools and community centres and will be taking an exhibition of rare CLC photos, documents and memorabilia to Liverpool, Plymouth, Folkestone and London in 2018. If anyone is interested in hosting any of the above activities, please get in touch with Wenlan at: chineselabourcorps@gmail.com
Chinese media coverage of the WFA parade on Armistice Day can be found here:
https://news.cgtn.com/news/7855544e35597a6333566d54/share.html
https://www.youtube.com/watch? v=kdKUv-8arlo
http://www.cncnews.cn/new/ detail/93987.jhtml
http://en.cncnews.cn/news/v_ show/68990_Chinese_labor_ corps_remembered_.shtml 
https://www.facebook.com/ XinhuaUK/posts/947081162105796
http://news.xinhuanet.com/world/2017-11/14/c_1121950007.htm
http://news.xinhuanet.com/world/2017-11/13/c_1121948907.htm
http://www.cankaoxiaoxi.com/culture/20171116/2243564.shtml
"他们的故事不仅属于中国人,也属于英国人" ——中国劳工纪念团队首次参与英国一战纪念活动