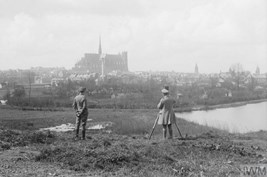 The Battle of Amiens is one of the important events being marked in 2018 as part of the First World War centenary commemorations.
The Battle took place on 8 August 1918, involving British, Australian, Canadian, French, and US forces. The subsequent Hundred Days Offensive, was a four month period of Allied advances, resulting in the signing of the Armistice on 11th November.
To mark this important centenary, there will be a commemorative event in Amiens Cathedral in Amiens, France, at 15:00 local time on Wednesday 8 August 2018.
The event is being led by the UK Government in partnership with the Governments of Australia, Canada, France and the United States of America.
A public ballot for tickets to attend the event is now open for descendants of those who fought in the Battle and those with an emotional connection to the Battle and the war on the Western Front during 1918.
Take Part in the Ballot > HERE