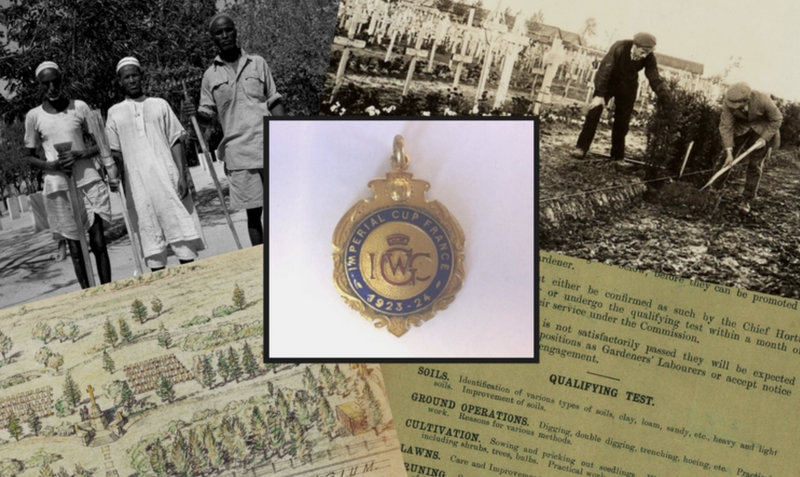 The CWGC will open its treasured archives at their head offce in Maidenhead to the public on Friday 17 November, as part of the national Explore Your Archive campaign.
Amongst other things the CWGC  will be demoing the new catalogue.
The event is free
Visitors to the event will be able to see:
staff recollections, including letters, postcards and reports, discussing the evacuation from Belgium and France during the Second World War

personal items which belonged to Jack Kingston, a veteran of the First World War and a CWGC gardener in France during the 1920s

staff records, including that of John Harris, who was a Pupil Gardner in France after the First World War. He served in the Second World War and was a prisoner of war in Thailand. He died after returning home from captivity

examples of gardeners and stonemasons working in the CWGC's sites from our collection of around 20,000 black and white negatives.

More details and information about tickets  > HERE https://www.cwgc.org/learn/news-and-events/news/2017/10/24/15/42/join-the-cwgcs-archives-open-day
New CWGC Archive Catalogue 
The Launch date for the new CWGC archive catalogue has been confirmed as Monday 20th November
We will be providing a fully searchable catalogue of over 15,000 files relating to the history and work of the Commission. Initially, digitised content will be limited to a complete set of Commission meeting minutes from 1917 – 1986 (totalling some 500 plus records), plus all the Annual Reports, but there will be entries for all of our other archive files that have been catalogued. We are also planning on adding more content to the catalogue, with original architectural reports relating to the construction of our cemeteries and memorials to follow in January, then original staff records, architectural plans, and photographs. It is envisaged that the catalogue will continue to grow as more material is digitised and more files are catalogued.