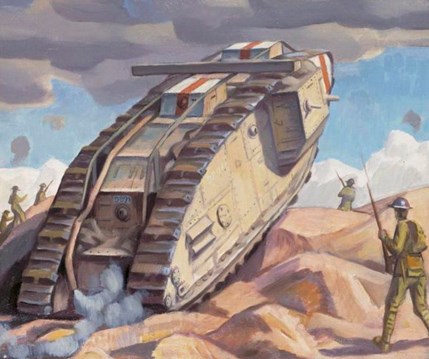 IMAGE : Bernard Adeney 1878-1966 A Mark V Tank Going Into Action
27th October 2018 @ 9:00 am - 28th October 2018 @ 5:00 pm
The British Commission for Military History (BCMH) and the Western Front Association are organizing a two day conference on the final campaigns of the First World War to be held at the offices of Norton Rose Fulbright in Central London on 27/28 October 2018.
Arrangements for accommodation are being made with the Union Jack Club.
CALL FOR PAPERS
Proposals for short papers on aspects of the armies' experience and preparation for the 1918 campaigns are invited.
Keynote addresses will be given by Professor Gary Sheffield and Dr Jonathan Boff.
Proposals for individual 20-minute papers or multi-paper panels on military aspects of the War are invited.
Themes may include, but are not limited to:
New operational and tactical perspectives
Economic and industrial impacts
Home Fronts
Command and leadership
Weapons and Technology
Organisation and Training
Morale and Medical
Airpower, Armour and Artillery
The Military Legacy of 1918
Proposals that move beyond the British and Dominion Armies are particularly encouraged.
The conference is being organised by Dr Jonathan Boff, Professor Peter Simkins and Dr Dan Whittingham.
Please send your proposed title with a 200-word abstract and a 100-word biography to Dan Whittingham d.whittingham@bham.ac.uk, by 30th April 2018.
Papers will be considered for publication in the BCMH's pioneering Open Access, peer reviewed journal British Journal of Military History.
Enquiries about the administrative aspects of the conference should be addressed to the Secretary General of the BCMH Mr Andy Grainger secgen@bcmh.org.uk
Conference registration is expected to open in Spring 2018.
Keep up to date at our website HERE > BCMH