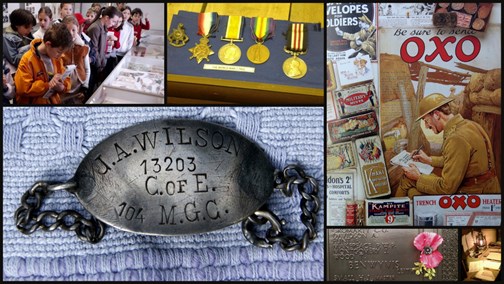 Childrens' Workshops Doors open at 9:00am, Workshops begin at 9:30am.
Hands on History - An Interactive Museum
In conjunction with Herts at War we are thrilled to be able to provide an immersive history experience for our younger attendees with our interactive pop-up museum. Speak to experts, handle artefacts and gain an insight into what it was like to be a soldier in The Great War.
Join the Royal Flying Corps - The James McCudden Flight School
Children will be invited to attend and not only find out all about the life of a pilot in the Great War from Alexandra Churchill, but to see if they have what it takes to join their ranks in this workshop based on genuine recruitment for the RFC in The Great War.
Joshua Levine's Interactive Audio Workshop
Based on his hugely successful book Forgotten Voices of the Somme, Joshua Levine will be holding an interactive workshop for our younger attendees using testimonies of the battle recorded by those who took part. Children will be able to hear about the Somme from the mouths of those who took part in one of the most famous British battles in history and discuss their thoughts with their host.
Go Undercover - Enrol in Spy School
Who doesn't want to be a Secret Agent? We are thrilled to invite our younger attendees to join Dr. Vivien Newman and learn tricks of the trade as they find out all about the lives of the Great War's spies. We could tell you more, but it's top secret, and no grown ups allowed!
The Last Year of the War - Meet Percy
This year Peter Doyle has published a children's book: Percy: A Story of 1918, about the life of Percy Edwards, a young Welshman who was conscripted into the army. We are delighted to offer children the opportunity to sit down with the author and learn all about one teenager compelled to pick up a rifle for the last year of the war.
Learn more about the #GreatWar100 events 9-10 November Click HERE > #GreatWar100