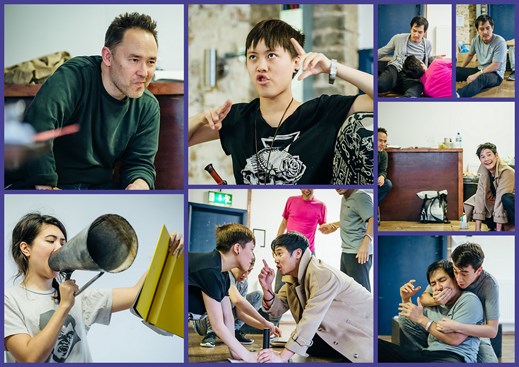 140,000 Chinese men were recruited from Northern China to work behind the front lines digging trenches, clearing mines, and burying the dead.
This freed up soldiers to go into front-line fighting. It was crucial to the resourcing of the war effort.
Recent historical research has shone a light on their story.
To commemorate the role the Chinese Labour Corps played in Britain's war effort during the First World War a new play 'Forgotten' by Daniel York Loh, will be performed in Plymouth and in London, together with a series of talks, community art workshops and an art exhibition will be taking place in Plymouth and London.
1917. Shandong Province, Northern China. Times are tough in Horse Shoe Village. Old Six and Second Moon struggle to earn enough to feed their young child. Big Dog struggles to overcome opium addiction and for Eunuch Lin, the fall of the Imperial Dynasty couldn't have come at a worse time. Could a fierce war far away in Europe present an opportunity to put both themselves and their struggling nation on its feet?
Daniel York Loh, Playwright, Forgotten 遗忘
'The story of the Chinese Labour Corps is such a powerful chapter in Chinese and European relations … I wanted to bring to life the hopes, fears, dreams, stories and songs of the Chinese Labour Corps'.
Kim Pearce, Director, Forgotten 遗忘
' I am thrilled to …  direct one of Daniel's plays and am looking forward to further exploring this incredible unknown story with the cast and companies.'
Zhen Lin, Artistic Director, Forgotten 遗忘
'Forgotten 遗忘 …  is a tough, tender, and savagely poetic portrayal of human beings caught in a terrifying war in just about the most alien environment possible desperately clinging to their own existence and what makes their lives matter.'
Kumiko Mendl, Artistic Director, Forgotten 遗忘
'It is important that this hidden East Asian story feature in the First World War commemorations so we are delighted to be working with Moongate to bring Forgotten 遗忘 to the stage this year.'
Performances
| | |
| --- | --- |
| Theatre Royal, Plymouth | Wed 17- Sat 20 Oct at 7.45pm (24 October at 7pm) |
| Arcola Theatre, London | Tue 23 Oct – Sat 17 Nov at 8pm + 3.30pm Saturday matinees |
 Photographs from Kii Studios Photograph & Film