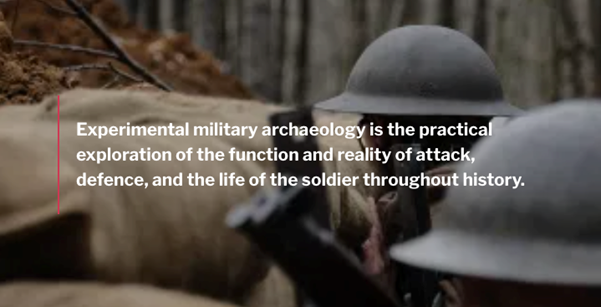 The Centre for Experimental Military Archaeology (CEMA), launched this year at the Kent Event Centre in Detling. At CEMA experts in their field. First World War, Roman, Civil War, Second World War … will be able demonstrate through reconstruction how battlefield features were built. 
In this article about the Centre for Experimental Military Archaeology, David Flintham explains its purpose and ambition. 
Experimental Military Archaeology 
How often has anyone visiting the site of a battlefield or siege wondered just how things would have looked at the time? How were the various features, now no more than a series of lumps and bumps in the landscape, constructed? In the absence of a time machine, it is only through reconstruction that this question can be answered.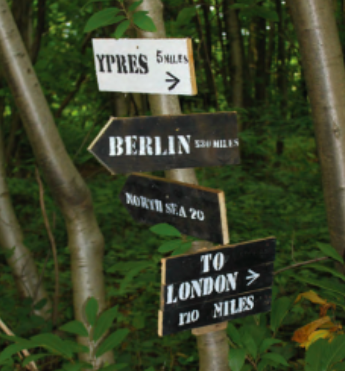 Of course, a level of reconstruction is possible through the skills of an artist or the application of digital technology, but this provides few clues as to how something was built and what it actually took to build it. Experimental archaeology can provide the missing piece of this jigsaw, demonstrating the practical application of something that might otherwise remain as just a theory. However, reconstruction on this scale is no small undertaking. Yet this is just what CEMAhas been created to do. 
The Centre for Experimental Military Archaeology's Vision
CEMA's vision is to be the home for pan-historical experimentation concerning military attack and defence methods and the day-to-day lives of soldiers through 2,000 years of history: from Roman times to the Second World War. In so doing, becoming a location where military engineering from across the centuries can be investigated, interpreted, constructed and tested.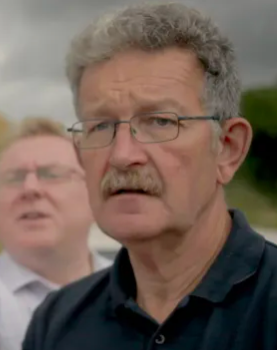 Led by Andy Robertshaw (whose impressive CV includes extensive investigative work on the Western Front and the historical advisor to Steven Spielberg, Sam Mendes, and Peter Jackson), CEMA is a multi-period site for learning and filming. It was established in early 2021 at the Kent Event Centre in Detling.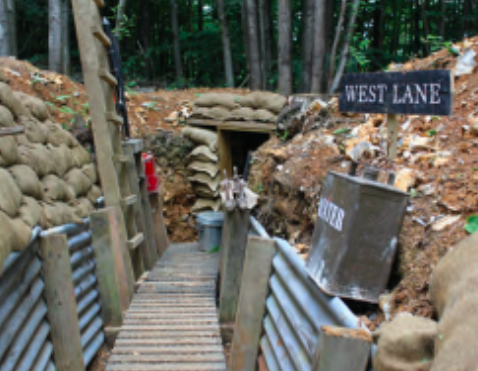 A Military Heritage 
The site itself has an impressive military heritage, with more than 20 centuries of history having passed close by. Nearby is the likely location of a Roman watchtower, built on a site that would be occupied for the next 1,000 years (there are indications of both Saxon and Norman activity), whilst to the northeast, there is a well-preserved site of a motte-and-bailey castle. Just three miles away is Maidstone, which was the site of a Royalist defeat in June 1648 during the second English Civil War.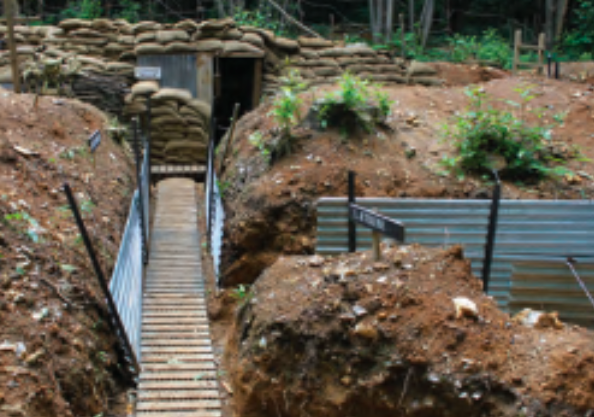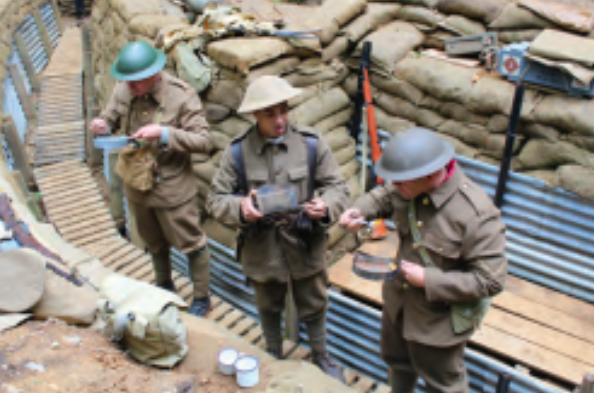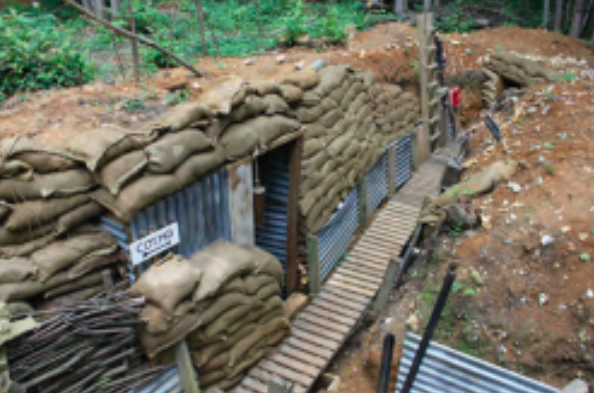 First World War
More recently, a defensive line, known as the Chatham Land Front, was built in 1914-15 to protect Chatham and its docks from attack from the Channel coast. This impressive piece of military engineering crossed the Detling site, and its trenches, pillboxes and gun positions were subsequently used to train troops destined for the Western Front. In 1916, the Royal Naval Air Service established a base at Detling, and later RNAS Detling was taken over by the Royal Air Force, becoming RAF Detling. 
Second World War
During the Second World War, RAF Detling was home to single-engine fighters, twin-engine light bombers and coastal patrol aircraft. A Detling-based Avro Anson of 500 Squadron famously shot down two Messerschmitt BF109E fighters and damaged a third whilst on patrol over Dunkirk on 1 June 1940. On 13 August, during the Battle of Britain, the airfield was attacked by Junkers JU87 Stuka dive-bombers, which resulted in the deaths of 67 personnel (including the station commander), with a further 94 injured. Probable fragments of enemy bombs were uncovered during initial work on the site in March 2021. Also, in 1940, various anti-invasion defences were constructed, including pillboxes and anti-glider measures, remains of which are still visible today. 
Working in collaboration with Wessex Archaeology and the University of Kent, CEMA first six months has been to provide research and education using cutting-edge technology and more traditional means.
CEMA's Education Remit
Hosting education is another vital purpose for CEMA. Several schools and colleges, who are currently unable to visit the Western Front itself, are already booked in for visits in the autumn. In addition to filmmakers, schools, and universities, CEMA is also open to visits by other tour groups.
On 2 July 2021, the centre welcomed its first ever school visit. Following this visit, the school's Head of History wrote:
'CEMA did an excellent job in putting on a range of activities and presentations for 100 of our Year 9 pupils. All the presenters were excellent, had a very good rapport with the pupils, and covered a wide range of Great War topics including food and medicine. The reconstructed trench was a real highlight, and more authentic looking in fact, than anything you'll see in Flanders. Having taken pupils on various History trips for over 30 years, this was right up there amongst the best of them. If you can't get to France or Belgium and/or want a UK based alternative, then this is very much the best thing.'
Ultimately, it is envisaged that in the future, not all of CEMA's activities will take place at its Detling HQ.
A British First World War Trench to be built
The first project for CEMA was to construct a length of British World War One 'A'-framed trench, complete with a dugout and other features common to British trenches along the Western Front during the second half of the conflict. This has been followed by the construction of a Moir machine gun pillbox (this 1918 design was constructed from interlocking precast concrete blocks, the blocks being cast at Richborough in Kent). The blocks for CEMA's example were donated and then moved from a site close to where they were originally produced.
In the future, it is intended to construct lengths of both French and German trenches. Later in 2021, work will commence on the first non-Great War project, some English Civil War fieldworks: this will initially be the construction of gabions (both the 'permanent' 6ft type and the more 'moveable' 3ft type) and fascines, with actual earthworks to follow. 
When more and more history is being presented in digital formats such as YouTube, podcasts, virtual reality, and the more traditional film and television, historically accurate locations where filming can take place are becoming increasingly important. So less than six months after its initial creation, several film crews have already visited CEMA.and it is intended that CEMA's role as a centre of learning will enable the knowledge and skills gained by participants to be ultimately transferred to sites elsewhere in the country. 
CEMA has already welcomed volunteers from various backgrounds and interests, including re-enactors, archaeologists, and academic and non-academic military historians. Each brings particular talents vital to an initiative such as this, but new volunteers are always welcome.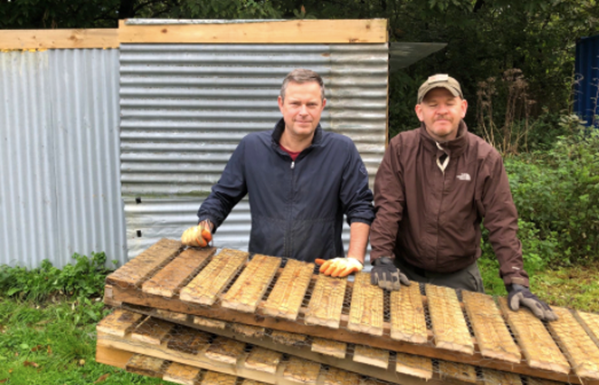 To find out more, including how to participate, visit https://cemahistory.org/