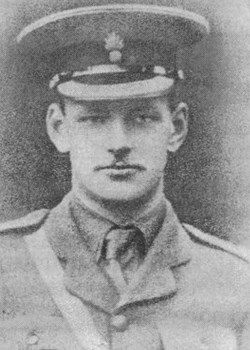 Born on 9 September 1895
The son of Lord and Lady Edward Cecil.
He had a lifelong ambition to soldier. After Winchester College (1909-12) he passed into Sandhurst as a King's Cadet aged 17 and was gazetted Ensign in his father's old regiment in February 1914. Still only 18, he went to France with his Battalion on 13 August 1914. It was among the first to arrive.
At first, Cecil acted as Orderly Officer to General Scott Kerr but had command of a platoon by the time the Guards crossed the Aisne at Pommiers during the Retreat. Exhausted by days of marching, 2Bn Grenadiers were at rest when orders came in soon after midnight on 1 September to take up a rear-guard position just north of Vivieres. No casualties resulted from the first encounter with enemy patrols at first light and the Battalion retired in good order into the forest of Villers-Cotterets. There was an outburst of firing at about 11am which soon became chaotic forest fighting at point blank range. Part of No 4 Company made a counter attack, suffering badly in the melée and most of its officers and men were either killed, wounded or missing, among them George Cecil. He was killed leading a bayonet charge, sword in hand.
The story of this engagement and its casualties appears in "Fifteen Rounds a Minute", the diaries of Major 'Ma' Jeffreys (J M Craster, McMillan 1976). This also gives a fascinating account of the visit to the battlefield later that same month by Cecil's mother, and the subsequent visit by Lord Killanin in November 1914 to locate and exhume all those buried in a pit after the action of 1 September. The CWGC burial report confirms the facts. Killanin's party found 94 men, recorded their details where possible and re-buried them under a cross, on the spot. This later became the Guards Cemetery. They found the four officers who had been killed and were able to identify them by clothing and personal effects; 2/Lt Cecil being identified by the initials on his vest. The officers were originally buried in a hastily purchased plot in the cemetery at Villers-Cotterets but after the War their remains were brought back to join their men.
2nd. Lt George Edward Cecil, 2 Bn Grenadier Guards
1 September 1914.
The background to the death of Lt George Edward Cecil above is taken from The Western Front Association Publication Private Memorials of the Great War on the Western Front by Barrie Thorpe.