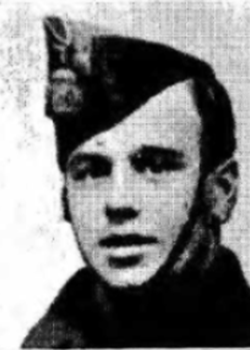 Born in Barry, co. Glamorgan 25 May 1896.
Parents William and Patricia Florence.
Robin was educated by private tutor.
When was was declared on 4 August 1914, Robin was at sea on a return voyage from South America. He was completing his 4th year for a navigation certification on the SS Pentwyn. The ship was taken for a transport by the Government. They were moving big guns from Woolwich to Antwerp when the city fell. Robin obtained permission to join the Belgian Army.  He was subsequently attached to the Legion of Frontiersmen joining the British Colonial Horse. He was attached to 3rd Belgian Lancers when he was wounded during the retreat from Schoore across the Yser.
At the end of 1914 he was given special leave to return to England.
On recovery he joined the Welsh Horse in March 1915. He served with the Mediterranean Force from September. He was killed in action on Hill 60 and buried in Rhonda Valley Cemetery. "He was a brave lad," wrote his Commanding Office, "quite one of my best bombers and a fearless sniper".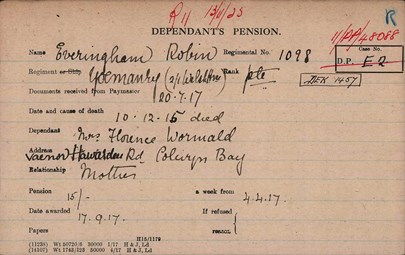 Above: Robin's Pension Card, which is available via the WFA's Pension Cards and Ledgers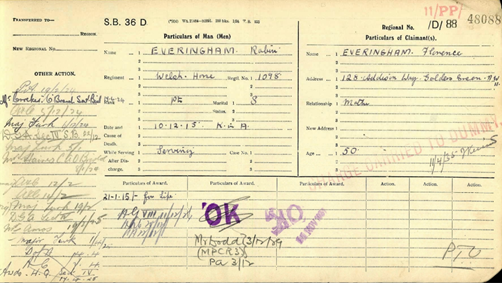 Pension Ledger showing payment to his mother Florence at 128 Seldison Way, Golders Green, London NW11
Robin Everingham 
KIA 10 December 1915