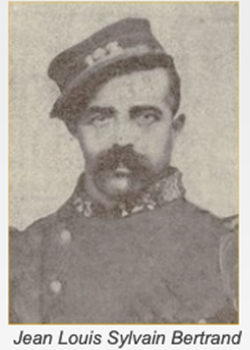 Born at St.Jean-de Bruel, Aveyron on 9th May 1876, Jean was a farm labourer in his civilian life.
A married man with one child, he was a reservist at the time of the outbreak of war. Mobilised into full time service during the first week of August 1914, he saw his first action with the 123e R.I. during the Battle of the Marne. This was followed by service on the Aisne front, especially on the Chemin des Dames into 1915 when he transferred to the 293e R.I. With the 293e, he served on the Champagne front and fought in the 2nd Battle of Champagne in September 1915.
In May 1916, Jean's regiment moved to the Verdun Battle and fought in the horrendous fighting in the Ravin de la Dame, Thaiumont Farm and the Bois de la Caillette through May and June.
He was killed in action near the 'Douaumont Quarries' (east of Fleury devant Douaumont) on 11 th July 1916 and has no known grave.
11 July 1916 killed in action.
Research by David O'Mara.
References:
Livre d'Or de L'Aveyron (2 Vols) Pub. 1922
Historique du 293 e Régiment d'Infanterie, 1914-17 Pub. La Roche sur Yon, 1920
Campagne 1914-1918 , Historique du 123 e Régiment d'Infanterie, Pub. Paris, (undated)
Tableau d'Honneur – Morts pour La France Pub. Paris 1921
Sepultures de Guerre (www.memoiredeshommes.sga.defense.gouv.fr)
Morts Pour La France de la Première Guerre Mondiale (fiches des soldats MPF) ( www.memoiredeshommes.sga.defense.gouv.fr )
Journaux des marches et opérations des unités engagées dans la Première Guerre mondiale ( www.memoiredeshommes.sga.defense.gouv.fr )
Aveyron Archives ( http://archives.aveyron.fr )
Les Armées françaises dans la Grande Guerre. Pub. Paris (various dates)