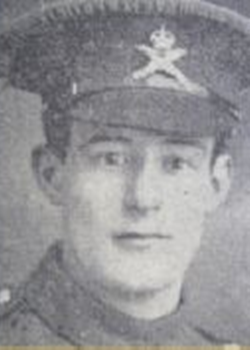 Born in Burnley, Lancs. in 1891.
William was residing with his parents at Church Square, Worsthorne at the time of his enlistment. Originally enlisting into the East Lancashire Regiment in April 1915, he was sent to the 10th (Reserve) Battalion (and numbered 10/21472) before proceeding overseas with the 8th Battalion (to which he was transferred) serving in France. Soon after arrival in France, (March 1916), William was transferred to the MGC , becoming a part of the newly formed 111th Company that, although in a separate brigade, was in the same Division (37th) as his original unit.
On 13 July 1916, whilst in support in the vicinity of the Tara-Usna line (La Boisselle), he was badly wounded and died of his injuries whilst in the care of a Field Ambulance at Albert. He is now buried in Albert Communal Cemetery Extension.
13 July 1916
Research by David O'Mara