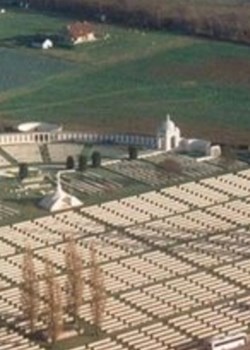 Lance Corporal James Alfred Vickery, D.C.M. 7th Battalion Seaforth Highlanders
James was born in Walthamstow on 17 October 1887.
He attended Blackhorse Road Boys' School from 1905 to 1911.
James was working for the Post Office in the Whitechapel Road when he enlisted in the 7th Battalion Seaforth Highlanders, a kilted regiment.
In August 1915, he was sent to France and fought at the Battle of Loos.
On 27 September, whilst under a heavy German attack, James and another NCO, Company Quartermaster Sergeant Beech, rallied the troops by climbing on the trench parapet and playing their mouth organs. For this act of gallantry, they were awarded the Distinguished Conduct Medal.
James also featured in the national press when the Daily Express awarded him a gold plated mouth organ.
Both his medals and mouth organ are displayed in The Highlanders' Museum in Inverness.
James was reported missing on 13 September 1917 in the Ypres area.
His body was never found and he is commemorated on the Tyne Cot Memorial.
13 September 1917 killed in action
Research by Malcolm J Doolin
Reference "The Boys of Blackhorse Road. The Story of an Elementary School War Memorial".