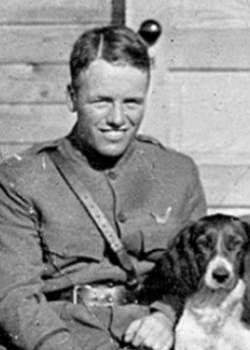 Born 19 November 1897
Father  Theodore Roosevelt, Mother Edith, Quentin was the youngest of six. He was four years old when his father became US President so he grew up in the White House.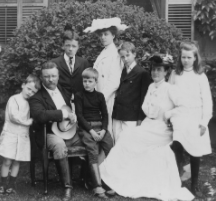 Half-sister Alice sister Ethel, and brothers Ted, Kermit and Archie.
Quentin went to Gorton and then Harvard from 1914. 
During August 1915, Quentin Roosevelt and two of his brothers, attended the a camp at Plattsburg set up to train junior officers.
Writing to his fiancée from Harbard in 1917 he expressed the view regarding the war in Europe that "we are a pretty sordid lot, aren't we, to want to sit looking on while England and France fight our battles and pan gold into our pockets."

In May 1917 Quentin dropped out of Harvard to join the newly formed 1st Reserve Aero Squadron, the first air reserve unit in the USA. Eventually, now in France, after a period of time limited to supply duties, on 9 July 1918 he became a pilot in the 95th Aeor Squadron  part of the 1st Pursuit Group based at Saint. 
He had shot down a German aircraft on 10 July 1918 but was then, only four days later, caught up in a massive aerial engagement at the commencement of the Second Battle of the Marne. He was flying a Nieport 28 when he was shot down above the Chamey behind German lines.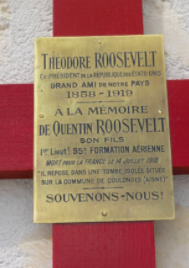 Flight Lieut. Quentin Roosevelt 
14 July 1918
The only child of a US President to die in combat. 
Quentin Roosevelt's three brothers also  served in the First World War as officers
Sources:
US Headstone and Interment Records
Wikipedia. https://en.wikipedia.org/wiki/Quentin_Roosevelt
Illustrated London News, 27 July 1918.
'Quentin Roosevelt: A Sketch with Letters (1921) Kermit Roosevelt