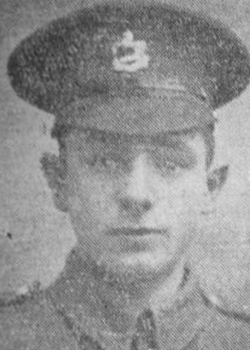 A miner from Burnley
Charles was born in 1893. He was a miner from Burnley, Lancashire, 
He was conscripted into service in October 1917 and served at the front as from April 1918.
Trench holding in the Hebuterne Sector, he was wounded in action in May 1918 and died of wounds in hospital at Rouen on 14th May 1918.
Charles is buried in St Sever Cemetery Extension, Rouen.
14 May 1918 died in hospital from his wounds.
Research by David O'Mara.
REFERENCES
Ancestry.com. British Army WWI Medal Rolls Index Cards, 1914-1920 [database on-line]. Provo, UT, USA:
Ancestry.com Operations Inc, 2008. Original data: Army Medal Office. WWI Medal Index Cards. In the care of The Western Front Association.
The National Archives of the UK; Kew, Surrey, England; WWI Service Medal and Award Rolls; Class: WO 329
The National Archives of the UK; Kew, Surrey, England; First World War and Army of Occupation War Diaries; Class: WO 95
The Burnley Express 22nd May 1918
Commonwealth War Graves Commission (www.cwgc.org )
Soldiers Died in the Great War – HMSO 1921
Greater Burnley Roll of Honour Pub: Burnley 1920