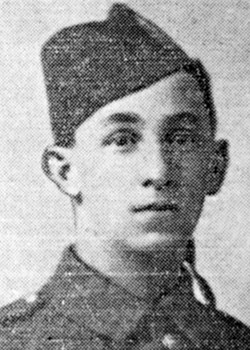 5104 Pte William Nettleton, Cameron Highlanders, 4th Battalion
Willie Nettleton was born in Ossett, Yorkshire 15 July 1891. He would be one of the 12 children in his family. They lived in a two-roomed home at 13, Ventor Cottages, Back Lane, Ossett.
Willie was a shop assistant and then a hairdresser before the war.
In early 1916 he enlisted and joined the Queen's Own Cameron Highlanders. He left for France in July 1916.
On 11 August 1916 he was part of a draft of 65 men from the base depot in Etaples sent to join the 1st Cameron Highlanders in front line action.
William was killed as a result of German shelling on 17 August 1916. His body was never recovered.
He is remembered at the Thiepval Memorial.
Research by Wilson, Ashby and Howe of Ossett Remembered.
REFERENCE
Ossett Remembered. Reproduced here with their kind permission. A fuller account is available on the Ossett Remembered website. (accessed 7 August 2016)
"Ossett Observer", September 1916
Commonwealth War Graves Commission