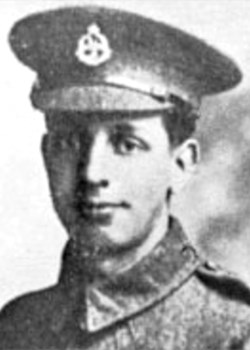 17453 Pte Frank Sagar, 'B' Coy 7th Bn East Lancashire Regiment
Frank was born in Barnoldswick, Yorkshire in 1895 to parents George and Emma. He would have been a cotton weaver, like his mother, father, two sisters and three younger brothers from the age of 13.
Frank enlisted into the East Lancs at Nelson, Lancashire in the first weeks of the war and arrived in France with the 7th Battalion on 18 July 1915.
After seeing action at Pietre in September 1915, his next major role was in the Battle of the Somme where he fought from its first day. Promoted to Lance Corporal, according to the medal record, he was later demoted back to private.
On 16 October 1916, with the first frosts of winter, Frank was wounded by a gunshot wound in the abdomen during the phase of Somme, later known as the 'Battle of the Ancre Heights' (1 October to 11 November). Frank died in a Casualty Clearing Station at Puchevillers the following day.
He is buried in Puchevillers British Cemetery, Somme.
17 October 1916 died of his wounds
Research by David O'Mara with additional notes by Jonathan Vernon.
Sources
UK, WW1 Service Medal and Award Rolls, 1914-1920
Census of England and Wales, 1911
Sagar, Frank. Commonwealth War Graves Commission (accessed 17 October 2016)
The Somme. The Day by Day Account. Chris McCarthy (1993) p.137