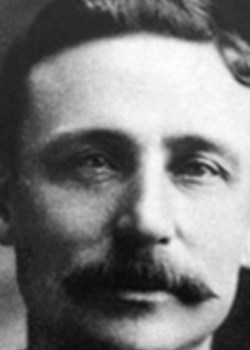 Sgt Frederick Hobson VC
Frederick was born 23 September 1873 in London.
Frederick served in the British Army during the Boer War and then emigrated to Ontario, Canada.
When Frederick enlisted in the Canadian Expeditionary Force in November 1914 he lied about his age, he was 41, too old.
Sgt Frederick Hobson was awarded the Victoria Cross when, during an enemy counter-attack, a Lewis gun crew in a forward post in a communication trench leading to the enemy lines was buried. Seeing the importance of the post Frederick got out of his trench, dug out the gun but found it jammed. Leaving it to a surviving wounded gunner he rushed out towards the advancing enemy and single handed held them off until he was shot. By now, the Lewis gun back in action, the enemy were held off and reinforcement were able to come forward.
Frederick was killed in action 18 August 1917 at Hill 70, Lens, France.
Sgt Hobson has no know grave.
He is commemorated on the Vimy Memorial.
18 August 1917 killed in action.
From the Foreign & Commonwealth Office.
REFERENCE
Archive Commemorating overseas recipients of the Victoria Cross. (accessed 17 August 2016)
Reproduced here under Open Government Licence v3.0