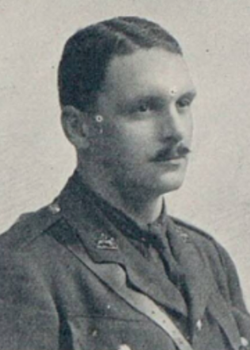 Born in Harlesden, London 1885
Born to parents Alfred Henry Folker Esq, a London Agent for Royal Crown Derby Porcelain and Hannah. 
There were four boys and a sister in the family. 
Age 16 in 1901 Edgar was a an apprentice marine engineer boarding at 1 Studley Road, Lambeth.
Ten years on and age 26 he's working as a Motor Agent and living back in the family home at 12 Park Road, Harlesden with his parents older  sister Evelyn and younger brothers Arthur and Sydney . 
Both Arthur and Syndey gained commissions. Arthur rose from 2nd Lieut to Captain by the end of the war.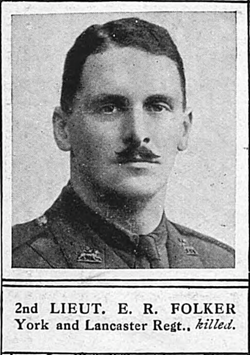 2nd Lieut.Edgar Reginald Folker 'A' Coy 1st Bn York and Lancaster Regiment
KIA 19 February 1915
Sources: Army and Navy Gazette 6 March 1915, The Graphic February 1915. The Scotsman, 2 Sept 1914.