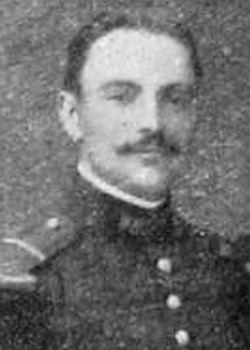 1456 Sgt Claude Vialletelle, 298e R I
Born at Busieres, Puy de Dome on 12 April 1891, Claude was serving his compulsory military service at the time of the outbreak of war. In the first week of August, he voluntarily transferred to the 298e RI and was promoted to Sergeant before taking part in the early battles in Alsace.
Following these battles, he was a participant in the Battle of the Marne before being seriously wounded on the Aisne front at the end of September. Claude died in a military hospital at Caen, Normandy on 2 October 1914. His body was returned home for burial.
2 October 1914
Research by David O'Mara