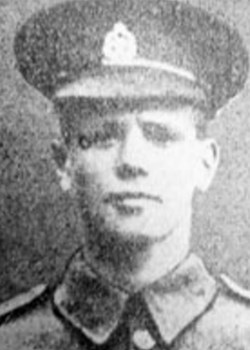 Stephen Carroll was born in Burnley in October 1895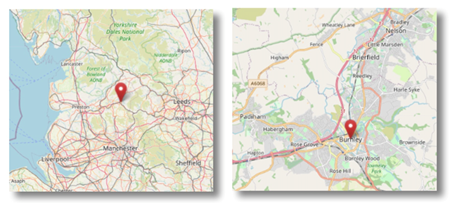 The son of Luke Carroll (a brick maker) and Amelia Ann (née Walsh). 
Stephen enlisted into the Special Reserve on 20 July 1914.
Age 5 at the 1901 England Census, Stephen lived with his parents, his father Luke now a brick seller and infant brother and four boarders in Burnley. 
Age 15 at the 1911 England Census, Stephen still lived at home, with his parents, now the oldest of four siblings and working as a coal hewer's drawer. His father was working as a general labourer in a brickworks. Six of them lived in three roomed accommodation. 
Three years later we find Stephen working in a foundry. At the outbreak of war he was in Plymouth.
He was appointed Lance Corporal with the 3rd Bn East Lancs, but he gave up his stripe upon transfer at Winchester to the 2nd Battalion (with which he moved to France in November 1914).
Stephen was wounded in the arm at Neuve Chapelle in 1915, and he spent 26 days recovering in hospital before being returned to duty, after which he saw action at Fromelles. He came unscathed through the Battle of the Somme in 1916 and Third Ypres (Passchendaele) in 1917, but he was killed in action during 'trench holding duties' on the Passchendaele Ridge on 20 November 1917 after the battle had ceased. Having no known grave, Stephen is commemorated on the Tyne Cot Memorial, Belgium.
Further details of his widow, his widow's addresses (she seems to have moved from one property to another) and the pension paid can be found using the WFA's Pension Records.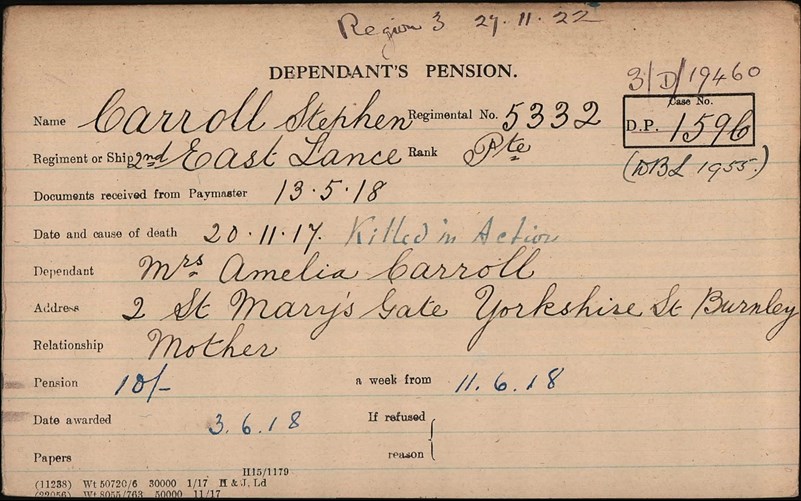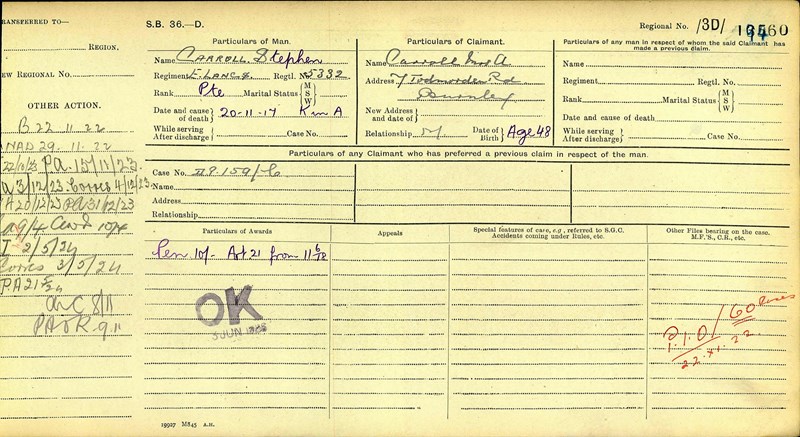 5332 Pte Stephen Carroll, 2nd Bn East Lancashire Regiment
20 November 1917 killed in action.
Research by David O'Mara
Sources: UK Soldiers Died in the Great War, Pension Ledgers & Cards from The Western Front Association records on Fold3 by Ancestry, UK, Army Register of Soldiers' effect, the National Army Museum; England Census Returns 1891, 1901, 1911.