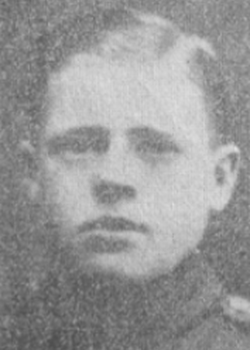 'Missing in action' within two weeks of being posted to Mesopotamia
Frederick was born in 1897. He was a weaver from Burnley, Lancashire.
He finally enlisted successfully into the Seaforth Highlanders in Burnley in 1915 after six previous attempts.
In April 1916 he was sent as part of a draft bound for the 1st Battalion, in Mesopotamia.
On 22 April 1916, having only been 'in theatre' for about a fortnight, he was posted as 'missing in action' during the ill-fated third attack on Sannaiyat (one of the attempts to relieve the besieged garrison at Kut).
Having no known grave, Frederick is commemorated on the Basra Memorial, Iraq.
22 April 1916 killed in action.
'Remember: On This Day' is researched by David O'Mara.
References:
Ancestry.com. British Army WWI Medal Rolls Index Cards, 1914-1920 [database on-line]. Provo, UT, USA:
Ancestry.com Operations Inc, 2008. Original data: Army Medal Office. WWI Medal Index Cards. In the care of The Western Front Association.
The National Archives of the UK; Kew, Surrey, England; WWI Service Medal and Award Rolls; Class: WO 329
The Burnley Express 19th August 1916 & 20th January 1917
Commonwealth War Graves Commission (www.cwgc.org )
Soldiers Died in the Great War – HMSO 1921
Greater Burnley Roll of Honour Pub: Burnley 1920