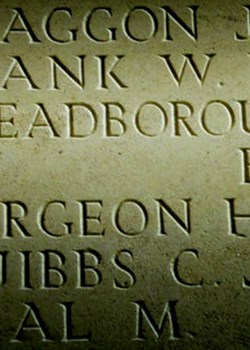 C/4066 Rifleman Percy William Spreadborough 17th Battalion, The King's Royal Rifle Corps.
Percy was born on 25 January 1894 in Islington. By 1901 the family had moved to Walthamstow and from 1902-1908, Percy attended Blackhorse Road Boys' Elementary School.
He went to work as an office boy with a bookseller but left and by 1 July 1915, when he enlisted, he was working as a fitter's mate.
The 17th Battalion, The King's Royal Rifle Corps was sent to France on 8 March 1916.
On 6 June, Percy suffered a self inflicted wound to his forehead when another soldier's rifle caught in his kit as Percy was attempting to shoot down a pigeon coming from the German lines. It was reported but no further action was taken.
By the end of August 1916 The King's Royal Rifle Corps had arrived near Bouquemaison, moving on to Authie on the 25th and Bertrancourt on the 28th as they took over the Hamel Sector. Percy is likely to have been in the attack on 3 September when all the officers of The King's Royal Rifle Corps were either wounded or killed during the 'Ancre Operations'. The rest of September was spent out of the line, though in the area, until in early October, from the 9th he would have been involved in attacks with the 16th Sherwood Foresters on the formidable Schwaben Redoubt. Though relieved on the 16th Percy would have been back in the front line by 21 October as part of II Corps.
At 5.00am the Germans counter-attacked in two places on the Schwaben Redoubt. The 17th King's Royal Rifle Corps and part of the 14th Hampshire's drove them out with bombs. Battalion HQ moved from Bulgar Trench to Martin's Lane. According to the War Diary, "heavy hostile shelling kept up throughout the day, but no further attempt was made to attack the enemy. Casualties 2/Lieut. A W Scott wounded, other ranks 5 killed, 36 wounded, 8 missing and 6 wounded 'shell shock'." It can be assumed that Percy was one of those missing, later reported as having died on this day.
As his body was never recovered, Percy Spreadborough is commemorated on The Thiepval Memorial to the missing.
22 October 1916 killed in action.
Research by Malcolm J Doolin
Reference
The Boys of Blackhorse Road. The Story of an Elementary School War Memorial.
British Battalions on the Somme. Battles 7 Engagements of the 616 Infantry battalions involved in the Battle of the Somme. (2004) Ray Westlake.
The Somme. The Day by Day Account. Chris Mcarthy (1993) pp 110-140.
War Diary. 17th Battalion, The King's Royal Rifle Corps. National Archive. (Downloaded 6 October 2016).