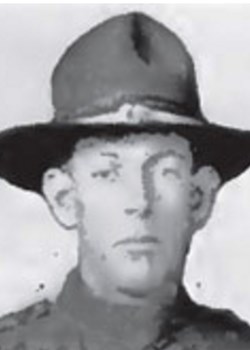 Pvt Edward M Beneker, CoD 115th Infantry Regt.
A farmer from Franklyn County, Indiana, Edward was born at South Gate on 20 September 1895. He was drafted into service at Brookville on 29 March 1918 and received his training at Camp Gordon, Georgia and at Camp McClellan, Alabama before being transferred to the 115th Infantry and sent overseas in June 1918.
A participant in actions in Alsace and near Verdun prior to engaging in the Meuse-Argonne Offensive, Edward was reported as wounded and missing in the Argonne on 23 October 1918. His body never being identified, his name is now listed on the 'Tablets of the Missing' at the Meuse-Argonne American Cemetery, Romagne.
23 October 1918 killed in action
Research by David O'Mara