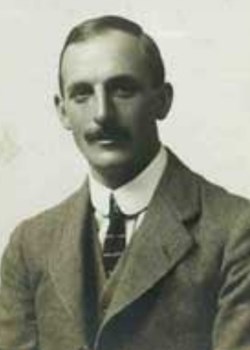 Obituary from The Times, 7 August 1917
Lieutenant Ivan Beauclerk Hart-Davies, RFC.
Lieutenant Ivan Beauclerk Hart-Davies, RFC, who was killed in an aeroplane accident in England was the son of the late Rev John Hart-Davies of Southam Rectory, Warwickshire and was 39 years of age. He was educated at a school at Maidenhead and at King's School, Canterbury, and began life as a schoolmaster at New Beacon, Sevenoaks. Afterwards, however, he worked up a wide life insurance and motor insurance business in the Midlands. He held the "end-to-end" "record" for motor cycles and light cars, and in 1913, with three other motorcyclists, won the Murren Cup, though none of the four had done any bobsleighing before. He took to flying before the war as an amateur, but last year he obtained a commission in the RFC and was on the eve of going to the front. A brother officer writes "A gallant fellow who we all liked immensely, and are deeply grieved that he should have been fatally injured when he so much wished to go to France, where doubtless he would have won honours".
Obituary courtesy Great War Forum.
Photograph courtesy South Wales Section of the Vintage Motor Cycle Club.