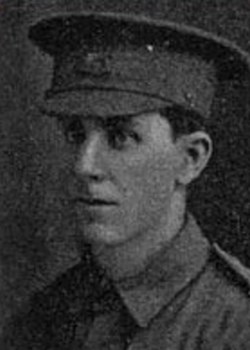 4204 Pte Albert Amos Howes, 13th Battalion Australian Imperial Force
Albert was born in 1893 in Granville, near Parramatta, Sydney, New South Wales, Australia. Before the war he was a machinist. Albert enlisted 11 May 1915
On the morning of 29 August 1916, the 13th (NSW) Battalion made an attack on Fabeck Graben and Mouquet Farm , known by the men as 'Moo-cow Farm'. It was a warm and wet day, with temperatures of 28oC and heavy rain.
The 13th managed to enter Fabeck Graben behind Mouquet Farm but after fierce fighting and heavy losses they had to retire.
Albert was killed and his body recovered.
Albert was buried in the AIF Burial Ground, Grass Lane, Flers (Plot 15, Row P, Grave 14)
29 August 1916 killed in action
REFERENCE
The Somme. The Day by Day Account. Chris McCarthy (1998) (p.84)
The Battles of the Somme. (1917) Philip Gibbs. (accessed 29 August 2016 in free eBook form)
Source courtesy: WWI Pictorial Honour Roll of New South Wales