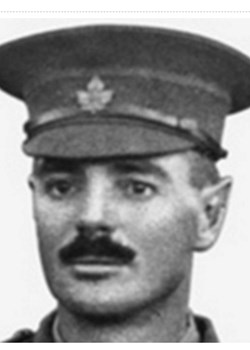 Lieut. Robert Combe.
Born in Aberdeen on 5 August 1880, Robert Combe left for Canada age 26 in 1906. A pharmacist in Saskatchewan, in April 1915 he enlisted in the Canadian Expeditionary Force.
Although Combe qualified as a Major he asked to revert to the rank of Lieutenant so that he could transfer to a combat role.
On 3 August 1917 in Acheville, he led his company through heavy fire, secured their objective and took 80 prisoners.
His grave was lost when the cemetery was overrun during subsequent fighting. His name is inscribed on the Canadian National Vimy Memorial.
A lake in Northern Saskatchewan was named in his honour.
Notes prepared from UK Government information on 'Overseas recipients of the VC' and available for re-use through Creative Commons licensing.
REFERENCE
GOV.UK. Lieut. Robert Combe. (Accessed 5 August 2016)
Image from National Defence Canada.