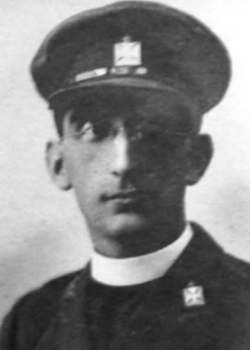 Vicar of Cardington co Salop. 
3 December 1918: The Rev William David Abbott. Chaplain to the Forces. 
William Abbott was born in Hermaston, Lincoln 22 July 1885
He was educated at Christ College, Brecon and ordained in 1909.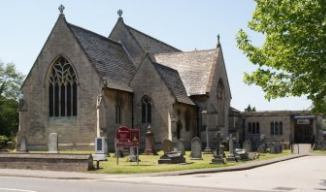 William married Mary Ann Williamson at Trinity Church, Boston 7 October 1909 and had two sons David George born 17 October 1910 and John Williamson born 21 June 1916. 
He was gazetted Chaplain to the Forces 7 June 1918. 
He served with the Expeditionary Force in France from 6 August 1918 and died No.5 Stationary Hospital, Dieppe 3 Dec following pneumonia contracted while on service.
His CO wrote 'I have had an exceptional opportunity of learning what he was, what an inspiration he was to all around him; what a tower of strength he was on the side of everything manly and clean. He was one of the bravest men in moral courage I have ever met …'
The Rev William David Abbott died of pneumonia 3 December 1918.
Buried in Jannal Cemetery, Dieppe. 
REF: The Boston Guardian Saturday 21 December 1918