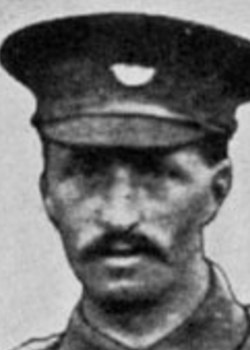 67733 L/Cpl William Dewhurst, 217th Coy Machine Gun Corps
Born in Helmshore, Lancashire in 1885, William was living at Barnoldswick, where he was employed as a weaver at the time of his enlistment. Enlisting into the 4th Bn King's Own Yorkshire Light Infantry (as 5841) at Keighley in August 1916, he was transferred to the Machine Gun Corps in November of the same year.
Posted on active service in France on 16 March 1917, he saw action during the 3rd Battle of Ypres and during the Battle of Cambrai where he was posted as 'missing' during the German counter-attack on 30 November 1917. Having no-known grave, William is commemorated on the Cambrai Memorial, Louveral, Nord.
William was the third tragic loss for his family during the war, his older brother being killed in action in August 1918 and his only sister was killed during the sinking of the RMS Lusitania on 7 May 1915 whilst en-route from the USA.
30 November 1917
Research by David O'Mara