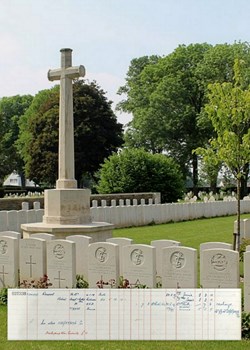 Born around 1883
Robert Dewart was a general labourer before the war. He was married to Annie McIntyre and they had one child.
He enlisted in January 1915 and was sent to France in May 1915 where the 1/6th Argyll and Sutherland Highlanders were over the following three years engaged in: The Battle of Festubert, 1915; The Somme in 1916; Third Ypres, in 1917 and even Italy between December 1917 and January 1918 before returing to France and Houdain, north of Cambrai.
Robert fell ill and died on 4 January 1919 of 'sickness' age 36. He is buried in the Cambrai East Military Cemetery.
Robert was survived by his widow Annie McIntrye, their child and Robert's mother Jessie.  At the time of his death the family were living at 2, Reid St, Bridgeton, Glasgow before moving to Perth in June 1919.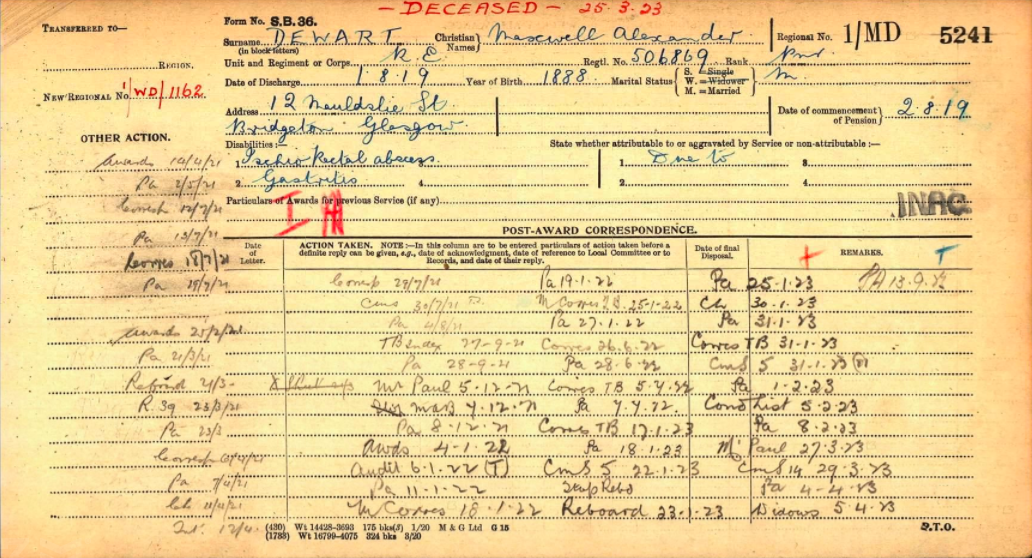 Younger brothers James and Maxwell also served. Maxwell served with the Royal Engineers and was discharged in  August 1919 but suffered from an ischiorectal abscess and gastritis, he was granted a disability award but despite frequent treatment between 1920 and 1923 he died 25 March 1923.  James served with the Gordon Highlanders. He was discharged in July 1920 and received a disability allowance for a gun shot wound to the forearm.
4/9735 Pte. Robert Dewart, 'A' Company 1/6th Princess Louise's (Argyll and Sutherland Highlanders)
4 January 1919
Sources: Scotland Census Returns, Pension Cards and Ledges on Fold3 at Ancestry.