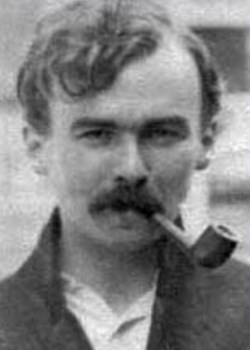 Lt George Sainton Kaye Butterworth MC, 13th Bn Durham Light Infantry.
Born in London on 12 July 1885, George - who was to become one of England's most distinctive composers - was educated at Eton and Oxford before becoming, for a short while, a music critic for The Times newspaper.
This was followed by employment as a music teacher and enrolment in the Royal College of Music. A founder of the English Folk Dance Society in 1911, he enlisted upon the outbreak of war into the 13th DLI and was promoted to Lieutenant on 13 February 1915.
During his frontline service, George was three times recommended for the Military Cross and awarded it twice, the second award being for events that took place on the morning of his death.
He was killed by a gunshot to the head at Pozieres on 5 August 1916 and buried near to where he fell, but his body was later lost. George is, therefore commemorated on the Thiepval Memorial to the Missing.
5 August 1916: killed in action.
Research by David O'Mara