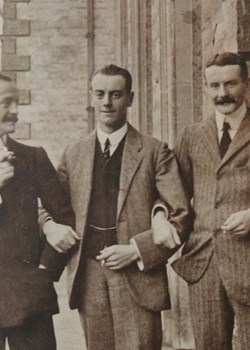 Edward was the seventh child of Hugh Seymour, the 6th Marquess of Hertford. The family seat was - and still is - Ragley Hall in Warwickshire
On 5 December 1917 Lord Edward Seymour (on the right in the photograph shown here) died of his wounds whilst serving as a private in Lord Strathcona's horse - a Canadian Cavalry Regiment. 
Lord Edward was born in 1879, into one of the most noble families in England - the title having been created in 1793. After leaving Haileybury College he attended Oxford Military College.
Lord Edward was well travelled: in 1899 he was a rancher in Ceylon (now Sri Lanka) and later took part in the Boer War in Lord Strathcona's Horse. 
In 1915 Lord Edward applied for a commission, which was successful, and he was appointed to Special Reserve of Officers, on probation and joined the 4th Royal Warwicks as a Second Lieutenant.
How did he - an officer in the Royal Warwicks, and the son of a Marquess end up as a private in a Canadian Regiment ?
The full, fascinating story of Lord Edward Seymour - his fall from grace and his redemption - is told in the article here Drunk as a Lord? The dismissal and redemption of Lord Edward Seymour