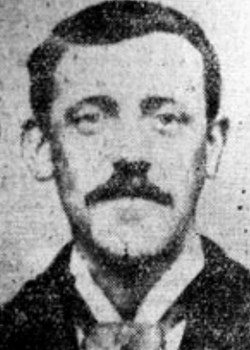 Walter was born in Burnley in 1874
An employee of Messrs Eastwood Ltd, Carriage Proprietors in Burnley, Lancashire, Walter Catlow  He enlisted into the 8th Bn East Lancs, in September 1914 and he travelled with them to France on 1 August 1915. Walter saw his first frontline service in the Foncquevillers sector, and he was a participant in the Battles of the Somme (1916) and Arras (1917). Wounded three times during this period (twice quite seriously), he was evacuated to the UK and, upon recovery, he transferred to the 7th Battalion with which he saw action at Third Ypres (more commonly called Passchendaele). Subsequently, Walter was posted as missing in action during a front-line working party on the night of 6 December 1917 whilst his battalion was out of the line. He is commemorated on the Thiepval Memorial to the Missing.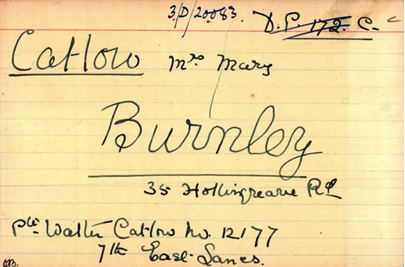 12177 Pte Walter Catlow, 7th Bn East Lancashire Regt
6 December 1917 killed in action 

His youngest sibling, Jonathan born 21 August 1887 received a 100% disability pension after he served and survived a gun shot to the head. 
Research by David O'Mara