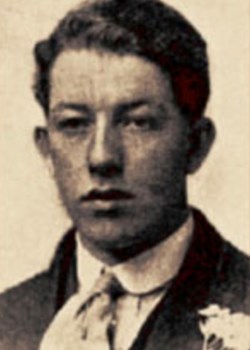 122064 Gnr George Henry Butt, D Batt 14th Bde RHA
George was born in Hawes, Yorkshire, in 1895.
In January 1916 he went to Settle to enlist. He joined the Royal Horse Artillery as a gunner.
After training he was allocated to the 'D' Battery, 14th Brigade.
In June 1916, George was sent to France. He was engaged in the Battle of the Somme and almost immediately saw action during the early phases.
On 7 September 1916 George was killed in action while sheltering from counter-battery fire in a dugout near Montauban. George and others were taking refuge in a dug-out that was blown in. All efforts, the diggers risking their lives, were made to dig the men out, but all were dead.
George was buried in, what the Second Lieutenant of D 14 Battery described in a letter to George's parents as "a little cemetery under the slope of a hill', Quarry Cemetery, Montauban, Somme. In the bundle of personal effects his parents received their son's pocket book, a belt and a handkerchief.
Two years later, George's parents learnt that their son, Pte Wilfred Butt, West Riding, had died in hospital in France on 1st August 1918.
7 September 1916 killed in action.
Research by David O'Mara with additional research by Jonathan Vernon.
David O'Mara has been a member of the WFA on and off since 1983. He has written hundreds of pieces for the WFA website, most notably 'On This Day' as well as articles for Stand To!. Now a published author with several titles out he has become a regular speaker at branch events. More about David O'Mara on his website 'On Some Disputed Barricade'. 
REFERENCE
George Henry Butt Craven's Part in the Great War (accessed 6 September 2016)