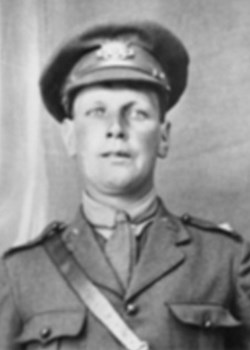 Alfred Edward Gaby, Australian VC
Alfred was born on 25 January 1892 in Springfield, Tasmania.
He was a labourer and farmer before joining the Australian Imperial Force receiving a commission in 1917.
On 8 August 1918 the 28th Battalion attacked an enemy trench east of Villers-Bretonneux during the Battle of Amiens. Initially stopped by wire 40 yards short of the German trench Lieut. Gaby found a gap in the wire, and single handed approached the machine gun in the strong point that was holding back the attack.
Running along the parapet, at point blank, he drove the German crews from their guns and compelled the surrender of 50. He then organised his men and attacked the next objective.
While encouraging his men to press on he was shot by a sniper.
Lieut. Gaby was buried at Heath Cemetery, Harbonniers.
REFERENCE
Foreign & Commonweatlh Office of the UK Gov. Notes reproduced from content made freely available to share through Creative Commons.