Search results for Skipton.
/on-this-day/t358722-pte-james-shuttleworth-109-mt-coy-army-service-corps/
Born at Cowling, Yorkshire in 1878, James Shuttleworth was living in Skipton (where he was an employee at Belle Vue Mills) at the time of his enlistment. A married father of two children, he was conscripted into the army in April 1917 and, after training and allocation to the ASC, was sent to join the Egyptian Expeditionary Force. He hadn't been i…
---
/on-this-day/3242-pte-robert-spencer-6-dow-west-riding-regt/
From Skipton, Yorks, Robert was born in 1892 and was the eldest of five. Before the war he was a warp dryer in a cotton mill. His father Peter was an engineman in a quarry.
Robert died on the operating table in hospital in York. He is buried in St.Stephen's Catholic cemetery, Skipton.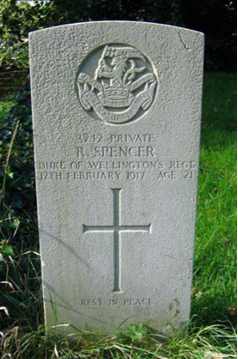 12 February 1917
Research by David O'Mara
Gravestone co…
---
/on-this-day/15-may-1918-l-sgt-john-gregson-16th-bn-duke-of-wellingtons-w-riding-regt/
Born at Wellington, Shropshire in 1880, John was living and working in Skipton ,Yorkshire at the time of his enlistment. A married father of two, he enlisted into his local territorial battalion in the early months of the war, but didn't see overseas service until mid 1916. After taking part in the Battle of the Somme soon after his arrival in Fran…
---