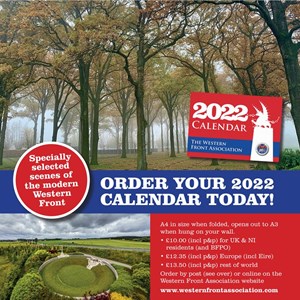 The Western Front Association 2022 Calendar includes high quality, modern images of scenes from the Western Front (France and Belgium) and the Italian Front.  The images are specially selected from the work of a number of committed and talented Western Front photographers who have donated their work to us. 
A4 size when folded, opens out to A3 when hung on your wall. 
£10 (Incl p&p) For UK (and BFPO)
£12.35 (incl p&p) Europe (incl Eire)
£13.50 (incl p&p) Rest of the World
Order by post or online
Calendars will be sent out in early October.
Prices
UK - £10.00 (inc. P&P)
EU - £12.35 (inc. P&P)
ROW - £13.50 (inc. P&P)