Listen to this engaging half hour podcast
Wilfred Owen - Dr Kate Kennedy 
Dr Tom Thorpe talks to scholar and author Dr Kate Kennedy, from the Oxford Centre for Life-Writing (OCLW), based at Wolfson College University of Oxford, talks about Wilfred Owen and his poetry during the Great War.
Kate Kennedy is the editor of 'The Silent Morning' a collection of essays on the cultural impact of the First World War and is one of the organisers of conference 'Wilfred Owen and Beyond' (26-27 October). Here she talks enthusiastically about Wilfred Owen, his upbringing, his early career as a soldier and the way in which his style, influences and influencers impact on his poetry.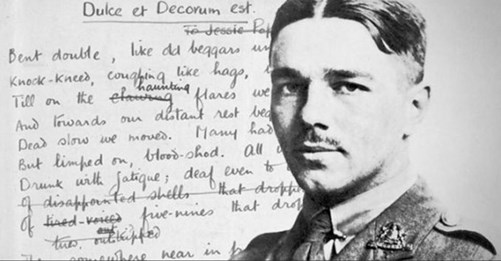 Mentioned in Dispatches : Wilfred Owen 
Kate Kennedy's developing interest in the poetry of Wilfred Owen begins with her own interest in Wilfred Owen which came from her father's passion for Owen and his interest in the First World War. 
We learn that Wilfred OWen grew up with views typical of an Edwardian School Boy of the epoch. 
Wilfred Owen's interest in poets of the period included the 'old school' Thomas Hardy, Henry Newbolt, G K Chesterton and the newcomers such as Edward Thomas, Rupert Brooke and W.W. Gibson. 
Kate Kennedy reminds us that at this time poetry was popular, with poetry in the newspapers and learnt by heart.
Benjamin Britten's War Requiem
Wilfred Owen's Early Life
Wilfred Owen was a keen scholar at school. 
His early influencers were the bible, romantic poets and John Keats  
He was a serious poet before the war, but had not developed his own style. 
Wilfred Owen and the First World War
At the outbreak of war Wilfred Owen was a tutor in Bordeaux and keen to join what he was calling 'the last war of the world'.
One of his early poems was The Winter of the World
Commissioned
At first Owen had an idea of joining the RFC and likened attacking Zeppelins to slaying a dragon.
It was very much while at Craiglockhart War Hospital through his friendship and mentoring by Siegfried Sassoon that Owen's poetry developed.
At this time Owen came to call himself "A conscientious objector with a very seared conscience". 
He was killed on 4 November 1918 while leading an attack to cross a canal during which almost all of them are shot.
Owen Published
There was little public exposure of Owen's poetry during the war, with only five poems published before his death.
After the war Owen was promoted by Sassoon and his acolytes, with a collection of his poems published in 1920 and then in 1933. It was however, with an anthologised collection of the War poets in the 1960s that saw Owen's rise to fame with poems such as 'Up the line to death'.