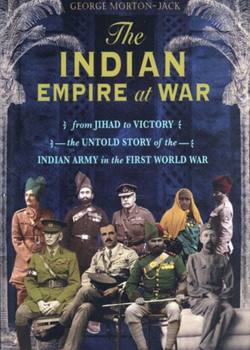 Little, Brown, £25.00, 582pp. hb, 27 ills, 7 maps, endnotes (guide to sources), glossary, list of dramatis personae, index. ISBN: 978–140–870–769–2 
Sources vary, but some 64,000 – 72,000 Indian Army soldiers served in the Great War – in several theatres worldwide – of whom some 34,000 were killed.
Only Portugal and Greece had fewer war dead.
At First Ypres in October 1914, almost straight off the boat from India, they made a vital contribution in holding the line alongside British regulars and reservists. Overall, their now generally overlooked contribution to victory on 'British' battlefronts from 1914 was immense.
George Morton–Jack's valuable book The Indian Army on the Western Front was an important contribution to Great War history. It, like Gordon Corrigan's earlier work, Sepoys in the Trenches, was another unquestionable swipe at the long established 'they couldn't stand the cold in Europe,' myth, an important overview of the topic and a corrective lever against other fables of 'Indian Army incompetence'.
The Indian Empire at War is an evaluation of the Indian Army during the Great War in all areas of conflict undertaken with considerable distinction. Here we have a valuable evaluation of the army's composition, its morale, the complexities of religion, of Indian 'tribalism', of command and the ever–growing military skills of officers and men. Alongside these elements the author shows the bizarre pre–war 'martial races' concept which Britain employed in recruitment and which only the demand for more troops, partially at least, swept away. Here too are the complexities of creating, maintaining and vastly increasing the army and the civilian volunteer forces which backed it with supply and labour during the war.
The author's expansive exploration of the subject, the narrative flow of his exposition and his apparent breadth of understanding is to be applauded. His is a superb effort of research – not least since the largely illiterate men of the Indian Army left so few letters about their experience, so few reminiscences. In their place the author filleted the files of censors' evaluations of soldiers' correspondence meant for their families back home, letters which were mostly written on behalf of the illiterate by 'scribes'. The author takes on board international issues, the influence of the British Government and its military, India's own growing desire to be more involved in the nation's governance, its internal political undercurrents, tribalism, caste and military and social factors.
Most warmly recommended.
Review by David J Filsell 
This review first appeared in the June 2019 edition of Stand To! the journal of The Western Front Association. Members receive Stand To! three times a year and our in-house magazine Bulletin three times a year. Digital Members receive these in digital form and have access to them online. All members have access to the Stand To! archive comprising all issues from No.1 bar the latest three.