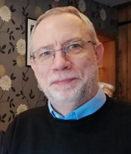 Hugh was Finance Director at Hampden Capital Plc and Hampden Agencies Ltd. and worked for the companies until his retirement on 1st December 2017. Before that he was a director of Axiom Underwriting Services Ltd. He qualified as a Chartered Accountant in 1980 and is a graduate of Cambridge University.
He was a Liberal Democrat Councillor of the London Borough of Redbridge from 1990 to 2018 and was briefly Deputy Leader of the Council. 
He has also been Treasurer of the London and Middlesex Archaeological Society and has been a member of the Western Front Association since 2001. Having three great-uncles killed on the Western Front in 1918 he has a long standing interest in the First World War.