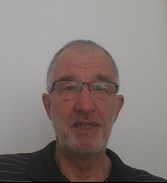 Steve's interest in the Great War was sparked by a chance reading of a book by Peter Simkins, World War 1 1914–1918, The Western Front. From that point he was 'hooked' and it led to a quest to learn more about his family's involvement about which he knew very little. His grandfather earned the Mons Star but by March 1915 he had been discharged suffering from TB. Of the seven brothers who also served, three were killed in action. 
Steve has been a member of the WFA for some six years. His working life was spent in IT and when he retired he vowed never to go near a  spreadsheet again. However, come the lockdown and the call for volunteers for the Alias project he wavered and has been involved not only with Alias but as a team leader on the Hometown, Stereoscope and TrenchMapper projects.
And that book that started it all? Some twenty years after first reading it Steve met Peter Simkins at a Surrey Branch seminar and Peter kindly signed it for him. It remains one of his favourite books on the Great War.