Steve's presentation  will look at who the CWGC are and the
origins of the organization, it's national and international commitment and its work going forward.
Speaker this month  is Steve Brunt,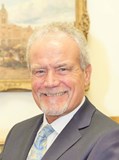 A little about our speaker this month:
Stephen Brunt – MA, BA Hons – Honorary Alderman of Chesterfield
CWGC Kantor Volunteer Speaker

From 1994 to 2015 Steve worked at Northern College for adult residential education as a Senior
Tutor/Business Development Manager. In his former role he was able to develop and deliver a series
of courses around the Great War. He first visited the western front WW1 battlefields with his wife Jill
back in 1996 and they have been visiting them ever since. The knowledge he has gained through
numerous visits enabled him to develop a unique expertise in the field. He joined the Western Front
Association 20 years ago and his first Bulletin is dated September 2001.
As a Councillor and senior Cabinet member on Chesterfield Borough Council Steve initiated a Whistle
for the Somme ceremony and event in front of the Town Hall. The ceremony was extremely well
attended and took place on 1 st July 2016 to commemorate the 100 year anniversary of the start of
the infamous battle of the Somme. Steve also delivered a series of presentations across the Borough
and beyond examining the Somme battle of 1916 in greater detail.
As Mayor of Chesterfield (2016/2017) he along with his wife Jill and Councillor John Burrows laid a
wreath at the Menin Gate in Ypres, for the people of Chesterfield in January 2017.
Steve was also instrumental in developing and chairing the WW1 Commemorations group on
Chesterfield Borough Council which initiated a number of commemorative events across the
borough for the centenary of the Great War. This was recognised locally and nationally as a huge
success and certainly did the Town of Chesterfield proud during that commemorative year.
In 2020 during the lockdown he undertook a series of interviews and training events (on zoom)
organised by the CWGC to enable him to become a CWGC volunteer speaker for the organisation.
Chesterfield Labour Club, 113 Saltergate, Chesterfield, S40 1NF
07 Sep 2021 19:30