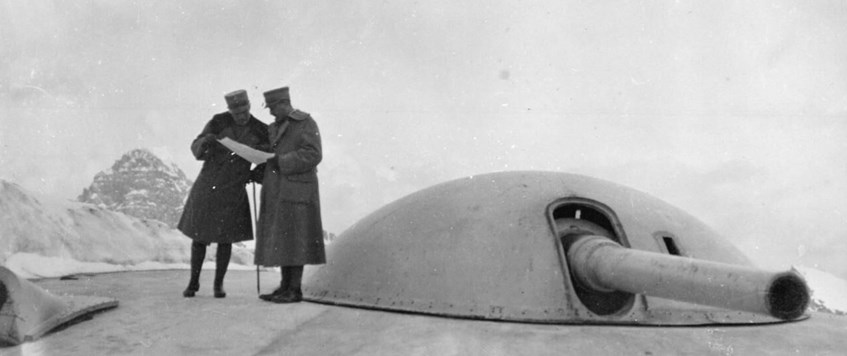 Caption: High altitude fortress in the Italian Alps (Image courtesy IWM)
About this talk: The War on the Western Front was closer to home and more central to people's thoughts, but some 900 miles away in the High Alps, Italy, a key ally of Britain and France by 1915, was engaged in a deadly confrontation with the Austro-Hungarian Empire at altitudes approaching 10,000 feet and temperatures that would reach -45°c, facing freezing fog, blizzard, the constant threat of avalanche, artillery and rifle fire. The 'War in the Mountains' raged for three and a half years, and Italy required French and British aid to bring an end to the horror of the Fire and Ice in the High Alps.

About the speaker: This is Rob's second online visit to NW Kent. His first was a very well received talk in February on the War in the Pacific. He's an Australian historian, writer and public speaker with over twenty years' experience in museums. As an archaeologist, he primarily worked on fortifications, early military buildings, and colonial mansions in Australia and has been a guest archaeologist on Time Team. He was at the Imperial War Museum for two years, and the National Army Museum for 15 years, delivering over 80 lectures, and spending six years managing the Templer Study Centre (library and archive). Rob specialises in imperialism and post-colonial legacy, the military history of British Empire and Commonwealth forces (particularly world wars), and the politics of empire. As a curator, he has become highly knowledgeable of British Empire uniform, technology, weapons, equipment and transportation, and spent four years focused on British military art. He is an Associate of the Museums Association and a Fellow of the Royal Geographical Society.
This online talk: opens at 19:20 for a 19:30 start, ending at about 20:30. Participating is quick and easy. The only equipment you need is a computer, or a tablet, or a smart phone. Simply email wfa.nwkent@gmail.com for your link and the passcode. These will be sent out on late/morning/early afternoon of Tuesday, 12th September, the day the talk takes place. You'll also automatically be added to the mailing list to keep you updated with future events.