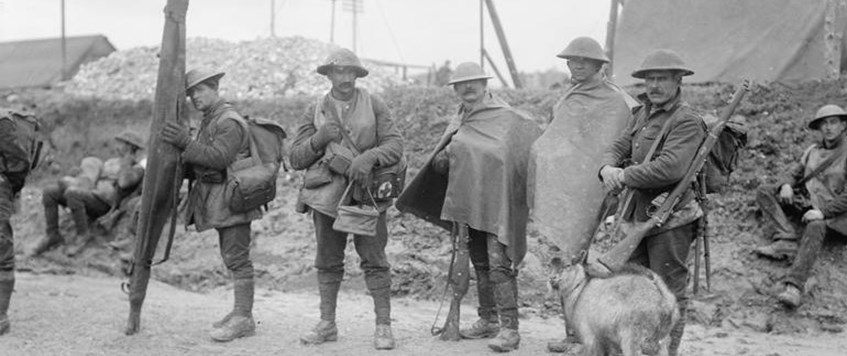 Caption: Dr William Kelsey Fry's pioneering team of stretcher bearers. The RWF regimental goat looks on. Courtesy: IWM
About the talk: By 1916, one medical team in particular - from the Royal Welch Fusiliers - had become renowned for their skill and courage in rescuing casualties on the Western Front. Dr (later Sir) William Kelsey Fry - Siegfried Sassoon's "Little Doctor" - had built an extraordinary stretcher bearer team that treated wounded men in the shell holes where they fell, and carried them back to field hospitals despite the dangers of constant shelling and sniper attack. Together they embodied the expertise, learning and dedication of their collective role, as well as the terrible price to be paid for the choice to commit themselves to the casualties at the most forward points of wounding.  In this talk, created exclusively for the NW Kent Branch, hear how the development of the specialist stretcher bearer cadre was achieved by a remarkable generation of Regimental Medical Officers, and their joint understanding of how to meet the greatest medical challenge of the modern military era.
About the speaker: Dr Mayhew works at Imperial College London as a military medical historian. Her speciality is severe casualty, its infliction, treatment and long-term outcomes in 20th and 21st century warfare. She is historian in residence in the Department of Bioengineering, working primarily with the researchers and staff of the Centre for Injury Studies.  She is the author of "Wounded, from Battlefield to Blighty".
This online talk: opens at 19:20 for a 19:30 start, ending at about 20:30. Participating is quick and easy. The only equipment you need is a computer, or a tablet, or a smart phone. Simply email wfa.nwkent@gmail.com for your link and the passcode. We'll also automatically add you to the mailing list to keep you updated with future events.