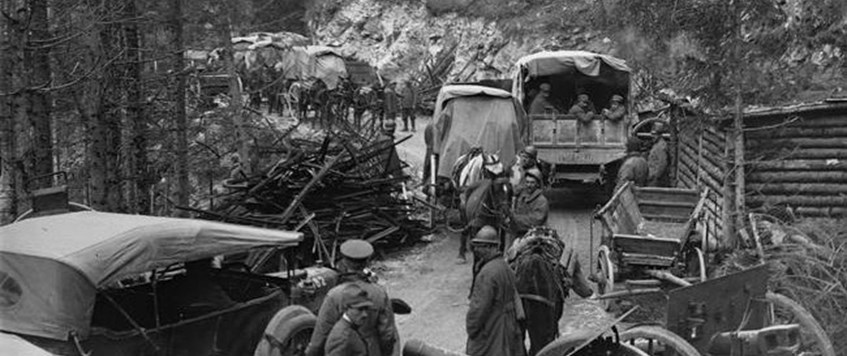 Image: British and Italian convoys passing abandoned Austro-Hungarian matériel at Val d'Assa on 2nd November 1918. Courtesy: Imperial War Museum
In this talk, Rob Thompson looks at events on the Italian Front in the second half of 1918 and the role of British forces during this period through an examination of the two most critical battles: the Second Battle of the Piave (15-23 Jun 1918) and Battle of Vittorio Veneto (24 Oct-3 Nov 1918). It will pay particular attention to the role of the Anglo-Italian Tenth Army (commanded by the Earl of Cavan) during Vittorio Veneto and the remarkable 'secret' attack on the Grave di Papadopoli (Papadopoli Island) conducted by British troops transported by Italian gondoliers as they sought to dominate the Piave River in preparation for the main assault.
Rob Thompson is a military historian and lecturer at City University of London. Prior to this, he taught at the "War Studies Group" (Birmingham University).
Royal British Legion Club, Queensway, Petts Wood, Orpington, Kent BR5 1DH
27 Sep 2018 19:30