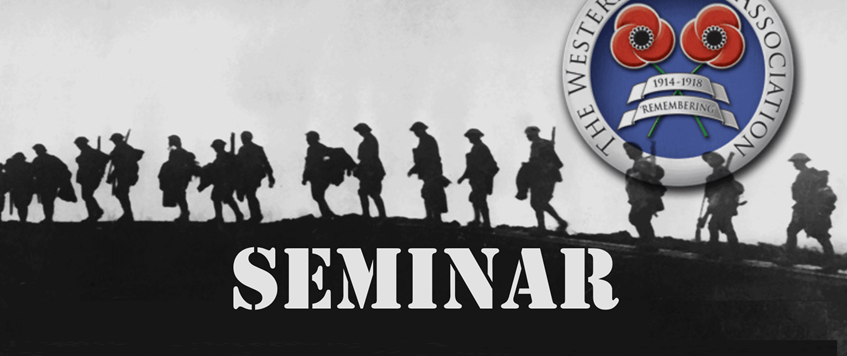 The Lincoln& North Lincolnshire Branch of the Western Front Association host Peter Barton, Rob Thompson and Richard Pullen at The Collection Auditorium in Lincoln for an afternoon of 1918-themed presentations.
Saturday 29 September 2018
The Lincoln & North Lincolnshire Branch of the Western Front Association will host their 2018 Great War Seminar on Saturday 29 September 2018 between 12.30 – 5.00 pm at The LEAP Auditorium at The Collection in Lincoln (see venue information below).
Join us for an afternoon of 1918-themed presentations including a fascinating talk by our key speaker, the renowned historian and TV presenter, Peter Barton. Tickets are priced at £20 per person and can be purchased at the bottom of this page.
Peter Barton: The Backward Glance
Peter Barton's work concentrates on looking at the Great War through primary source documents gathered from the archives of all the parties involved. It is a monumental task, but viewing history through a British prism alone – as we have been encouraged to do for centuries – has repeatedly proven to be unsatisfactory. Balanced research reveals embellishment and fabrication, widespread treachery, official and personal deceits, and much more.
The Great War did not unfold as most believe: there are everywhere better truths. What are they, and how might they affect perceptions and legacies?
Rob Thompson: The Empire Strikes Back 
BEF Logistics during the 100 Days Offensives 1918
Rob will explore the relationship between BEF offensive capability during the 100 Days Campaign, 1918 and logistics. He will suggest that the evolving nature, pace and outcome of the campaign was very much dependent upon BEF logistic capability. That capability was honed during the years 1914-1917 and during 1918 the BEF developed a mature and flexible system that could react quickly to the changed circumstances and tempo of 1918. Rob will also suggest that by late-October 1918 the BEF were approaching their logistical limits and that the armistice was ultimately as vital to the Allies as it was to Germany. Had Germany held on for just a few more weeks BEF logistics were so strained that the BEF would have had to call a halt to the advance and the war could have continued on into 1919.
Richard Pullen: 1918, Vindication and Victory for the Tanks
The story of how the tanks left their image of 'folly' or 'flash in the pan' behind and became indispensable on the battlefield. In 1918 the tanks, their crews and the tactics were finally ready and without them the last 100 days of the war could have been very different indeed. The talk also covers the gradual evolution of the tank with the final machines encompassing all the technological advancements developed over two years of warfare.
Venue Information
The Leap Auditorium is within the The Collection Museum in the heart of Lincoln. Seating 120 guests the venue is air-conditioned and allows for disabled access and seating. There is also the facility of a hearing induction loop.
The LEAP Auditorium, 
The Collection, Danes Terrace, 
Lincoln, 
LN2 1LP
Tickets on sale now at 2018 Great War Seminar 
The Collection Auditorium, Lincoln LN2 1LP
29 Sep 2018 12:30