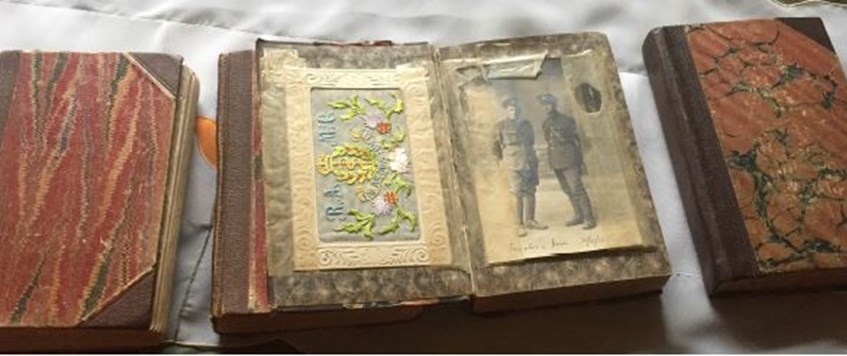 Sanitation, Sand & Shells: The war diary of Corporal Alfred Cockburn (2nd London Sanitary Company, RAMC)
This talk will explore the important role of military hygiene and sanitation within the Royal Army Medical Corps during the First World War, through the unpublished war diary of Alfred Cockburn.
Alfred Cockburn served with the 2nd London Sanitary Company (Royal Army Medical Corps) in Egypt and France throughout the war (1915-1919). His personal experience of war was captured in the diaries he kept at the time, which took the form of small field notebooks. Alongside numerous sketches, he also collected an assortment of war-related ephemera and trench art (c.200 pieces) which can all be found within the pages of the diary. Nearly twenty years later, looking back on his wartime experience, he rewrote his diaries (also incorporating wartime letters sent to his wife) which, once completed, extended to four volumes (1,200 pages). Contained within these pages, are fascinating details about various hygiene and sanitation practices and technological devices relating to personal hygiene, disease control and prevention, protection of water supply and its purification and distribution, latrines and urinals, burial of the dead, and disposal of refuse.
In line with the end of the centenary commemorations, this talk will shed light on a still relatively unknown aspect of the war, improving understanding of the First World War through the personalised journey of one man.
Sobraon Barracks, Burton Road, Lincoln, LN1 3PY
12 Nov 2018 19:00