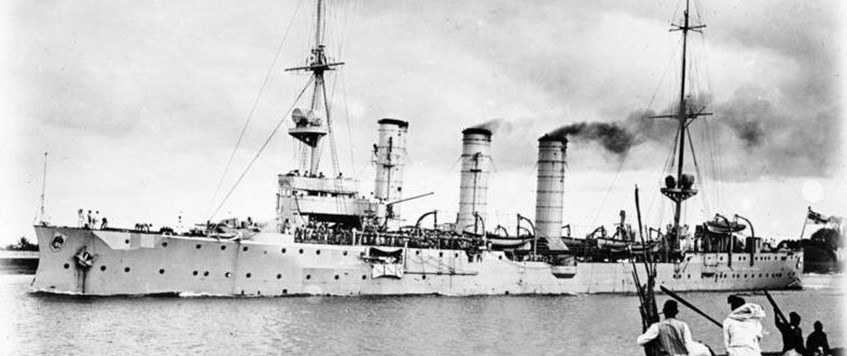 Shout at the Devil –The story of the German cruiser Königsberg by Kevin Patience
The story of SMS Königsberg is a unique piece of naval history from the First World War. After a short period of action off the coast of East Africa, the German cruiser suffered an engine failure and took shelter in the Rufiji Delta.  There it was blockaded and destroyed by the Royal Navy and the Royal Naval Air Service in 1915.  This episode later became the well-known novel by Wilbur Smith and the film starring Roger Moore.
Kevin worked as a commercial diver off the East African coast which stimulated his interest in the months-long campaign to sink the Konigsberg leading to the publication of his highly acclaimed book on the Battle of Rufiji Delta. The story is real 'daring do' and covers a WW1 battlefield that is unknown to many interested in the Great War.
The Surrey Branch returns to live meetings at the Cobham Day Centre for this meeting and it will also be available as an online talk via Zoom.  If you are planning to come to Cobham, or if you want to join us via Zoom, we would like you to register beforehand.  Andy Thompson's October email update contains details of how to register and includes instructions for joining the Zoom meeting.  If you are not on Andy's email list, please contact him at andy.ewt@gmail.com 
Members of The Western Front Association and non-members are equally welcome in Cobham and online.  In Cobham, we ask for a modest £3 donation on the door.  This includes tea, coffee and biscuits at the break (before the Q&A session with the speaker).  There is no charge for joining this meeting via Zoom
Kevin's talk starts at 8pm.  Doors open at Cobham at 7:15pm and the live meeting starts at 7:45pm.  Please note that for this meeting there will be no raffle and no books for sale.  We plan to resume these activities at future live meetings.
You can join the Zoom meeting at any time after 7.30 pm to chat to other attendees or to just listen in.
The photo shows SMS Königsberg at Dar es Salaam.  Wikimedia Commons from Bundesarchiv.
Cobham Day Centre, Lushington Drive, Cobham, Surrey KT11 2LY, UK
20 Oct 2021 19:45