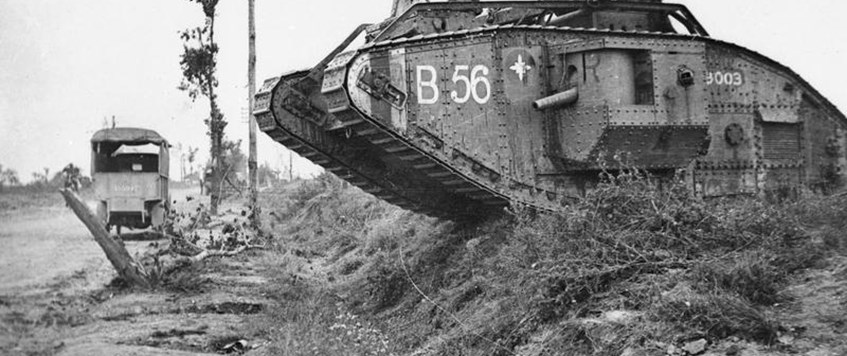 British tanks played an important role in the hard-fought final defeat of the German Army in 1918. Geoffrey's talk combines battle specifics with soldiers' insights.  He will look at the unique contribution of this revolutionary form of warfare in the final victorious year of the war.
Lieutenant Colonel (Retired) Geoffrey Vesey-Holt MBE was commissioned into the Royal Tank Regiment in 1974. During the Cold War he held several positions, including that of Armoured Squadron Leader. In 1990 he was involved in developing the Challenger 2 Main Battle Tank and served at the Armoured Trials and Development Unit, Bovington. He is currently working on a history of the Royal Tank Regiment.
Members of The Western Front Association and non-members are equally welcome. We ask for a modest £3 donation on the door.  This includes tea, coffee and biscuits at the break (before the Q&A session with the speaker). There is a book raffle and books about the Great War are usually available for sale.
 New visitors will be assured of a welcoming and friendly atmosphere among a group of like-minded enthusiasts.
 The meeting starts at 7.45pm.  Doors open at 7:15pm.  Come early to browse the books for sale and to chat about the Great War with other attendees.
 The photo shows a British Mark V tank (B56, 9003) of the 2 Battalion, Tank Corps crossing the ditch at the side of a road at Lamotte-en-Santerre, 8 August 1918.  © IWM (Q 68975)
Cobham Day Centre, Lushington Drive, Cobham, Surrey KT11 2LY, UK
17 Oct 2018 19:45