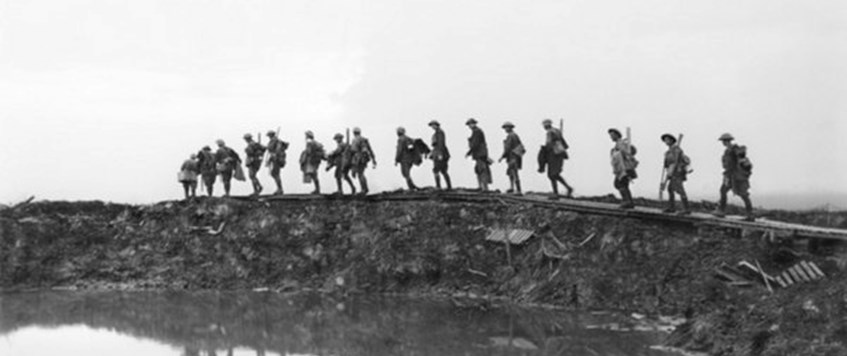 The Surrey Branch tour for 2017 will cover the 1917 battlefields of Arras, Messines and Third Ypres. The detailed itinerary is as follows:
Saturday September 23rd
The luxury coach departs from Reigate College (where there is secure free car parking) at 07:00 and we cross to the battlefield via Eurotunnel.
The tour starts at Lijssenthoek Military Cemetery where the visitors centre examines the evacuation and treatment of the wounded. We then visit the Passchendaele Memorial Museum before following the route of the assault troops fighting to secure the area around Tyne Cot Cemetery. After time at the cemetery we move to the south east of Ypres to study the mines of Messines. The mine crater at Spanbroekmolen reflects the enormity of the 1 million pounds of ammonal that were detonated at 03:10 on June 7th.
We return to Ypres for dinner in the Vivaldi restaurant in the Grote Markt. There will be some free time after dinner so that those wishing to attend the Last Post Ceremony at the Menin Gate can do so and the coach will depart Ypres for the hotel at 20:30. We overnight at a hotel in the centre of Lille.
Sunday September 24th
After breakfast we travel south to Arras. First stop is the spectacular underground museum at the Wellington Quarries where the group explore the subterranean caverns carved under the battlefield by the New Zealander engineers in preparation for the assault. We move to the Faubourg d'Amiens which contains several key memorials associated with the battle.
After lunch we visit the magnificent Vimy Memorial and examine why April 9th—Vimy Day is one of the most important days in the Canadian calendar. The group can examine the preserved trench sections, see how close the front lines were at key pinch points and travel through the Grange Tunnel to experience life underground that kept so many men safe before the onslaught. We return on the shuttle and will be back in Reigate at around 21:00.
The tour cost is inclusive of travel by luxury coach, the channel crossing by Eurotunnel, dinner on the Saturday night, bed and breakfast at the Ibis Styles Hotel Rue de Paris Lille, museum entry fees, a cooked lunch on the Sunday and a sandwich tea on the inbound journey. Group members receive a comprehensive reading list and background notes to the battle. Group members will have their own amplification receiver with a range of over 500 metres.
Cost per person is £190 based on two people sharing a twin/double room (Single room supplement is £20)
To reserve a place on the tour please email Andy Thompson at andy@eywitnesstours.com or call 01306 880960. As of 29th March there are approximately 15 places available.
The photo shows supporting troops of the 1st Australian Division walking on a duckboard track near Hooge in the Ypres Sector on 5th October 1917, the day after the Battle of Broodseinde. Frank Hurley (Australian War Memorial E00833 Public Domain).
Cobham Day Centre, Lushington Drive, Cobham, Surrey KT11 2LY, UK
23 Sep 2017 07:00