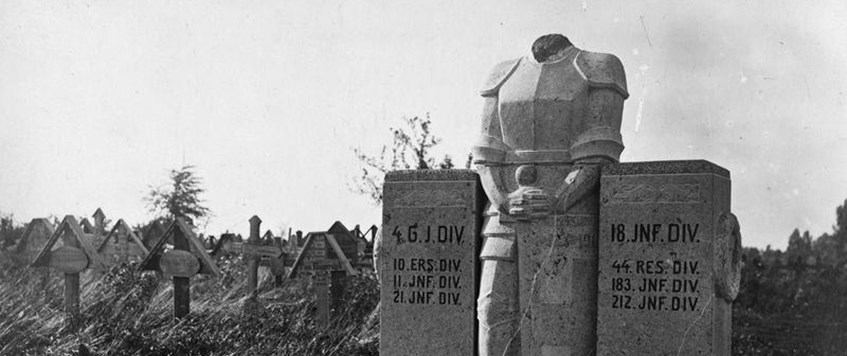 Stephen Binks will be giving his talk 'A travelogue of our burial ground Pilgrimage of the last seven years to over 1,400 burial grounds across France and Belgium'
Stephen is a retired self-employed battlefield guide. He has spent last seven years on a Pilgrimage to the burial grounds of France and Belgium. His intention is to stand at the grave of every serviceman, read his name and say 'Thank-you'. (Memorials to the Missing included). He has amassed over 24,000 images to allow the talk to be tailored to any branch's geographical location. Many unusual burial grounds, headstones and soldier stories weave through the narrative. His pilgrimage is on-going!

Zoom Link:https://us02web.zoom.us/j/83283587436?pwd=TFE1bHdIUUxhNjk4OU1aWkw0eTNrQT09
Can we please politely request that viewers joining the call do so with their microphones muted before the 7:30pm start time, to avoid disrupting the beginning of the talk. Thank-you.
Image: A damaged German war monument in the war cemetery at Parquy, 19 September 1917.© IWM Q 78160
Canton Rugby Football Club, Lawrenny Avenue, Cardiff CF11 8BR.
04 Nov 2022 19:30